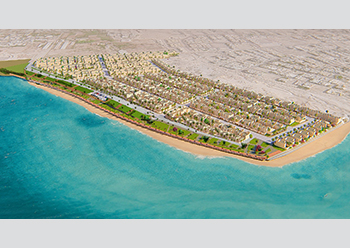 Nasayim Arad development will be located on the edge of Arad Bay.
Leading Bahrain developer Naseej is currently spearheading the development of three new real estate developments – at Arad, BarBar and Amwaj Islands – in the kingdom in line with its goal of delivering urban and smart communities across the kingdom.
These include Nasayim Arad development on the edge of Arad Bay; the Barbar development which is located on Barbar-Budaiya Road within the Northern Governorate; and Investment Lands Project, a mixed-use development at Amwaj Islands.
These projects come on the back of Naseej's successful track record over the past decade in developing real estate projects on a public-private partnership (PPP) basis with the Ministry of Housing and Urban Development. Since its inception, Naseej said it has completed six real estate projects in Bahrain worth BD218.4 million ($576 million), including the development of more than 2,981 housing units that vary from social and affordable homes to medium- to high-end residential units across several locations in the kingdom.
Elaborating on Naseej's latest projects, CEO Amin Al Arrayed said the Nasayim Arad development sits on the edge of Arad Bay offering spectacular views of the bay and the open water for families looking to buy their dream homes.
Located in a sought-after area with well-developed with roads, infrastructure and services to support the population of the area, Nasayim Arad is within walking distance to Arad Fort, Seef Mall Muharraq as well as in close proximity to Bahrain International Airport, retail areas, hospitals, school, sports clubs.
The seafront development features residential plots and villas for sale at competitive prices for beneficiaries under the Ministry of Housing and Urban Planning's various programmes to serve their housing needs, stated the Bahraini developer.
Al Arrayed indicated that Naseej has appointed Al Ansari Engineering Consultants to design and supervise the infrastructure works related to the villas. Preliminary works on the project are anticipated to begin soon, while preparations and special studies are currently in progress.
Meanwhile, the site of the Barbar development – Naseej's second project in the Northern Governorate – was selected based on the company's studies on areas with high demand for affordable housing projects in Bahrain.
Spread over a 150,000-sq-m area, the project will also comprise land plots and residential villas and is meant for beneficiaries of the social housing scheme. In 2021, Naseej and its joint venture partner Ithmaar Holding Company signed an agreement to develop the project, which is expected to be completed in 2024.
The third project, Investment Lands Project, boasts a strategic location as it sits near the main access of Amwaj Islands. Spread over a 125,000-sq-m area, the mixed-use development will have a large area allocated for residential villas and units as well as land plots.
These projects will be developed in line with Naseej's focus on incorporating sustainable development approaches into its current and future projects with the aim of delivering urban and smart communities across the kingdom, said the company.