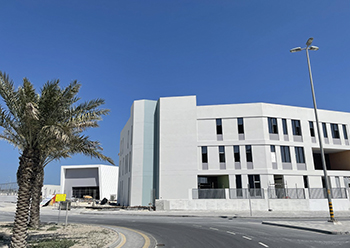 Nadeen School has a built-up area of 22,500 sq m.
Bahrain-based Ithmaar Development Company (IDC) has announced the completion of work on the Nadeen School located at the Dilmunia Island in the kingdom.
Built on a land plot size of 17,462 sq m in the centre of Dilmunia, the U-shaped building boasts open spaces, wide corridors, and is bathed in natural sunlight.
The new state-of-the-art educational facility has been developed by IDC in a joint venture with Bahraini developer Naseej. Mohamed Salahuddin Consulting Engineering Bureau (MSCEB) acted as the project consultant, while Al Ghanah Group was the project contractor.
With a built-up area of 22,500 sq m, the award-winning Nadeen School campus is now ready to welcome its students for the new academic year 2023-24.
The school boasts, among other facilities, a semi-Olympic size indoor swimming pool, science laboratories, large library, a health centre, art halls, spacious canteen as well as an indoor gymnasium.
It also features 'outdoor classrooms' for the cooler months to cultivate and improve learning and teaching techniques. The building's shape allowed the development of unique external play areas and facilities for students to enjoy.
The building was handed over to IDC in the presence of officials of MSCEB and Al Ghanah Group.
Speaking on the occasion, IDC Chairman Mohamed Khalil Alsayed said: "In partnership with our JV partners, we are proud to deliver on our vision to build a self-sustaining, balanced community in Dilmunia, with a school that caters to the needs of residents and citizens in and around Muharraq."