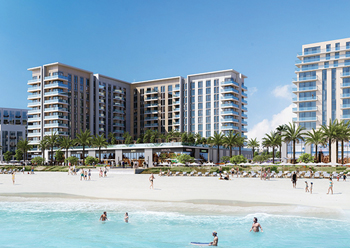 Marassi Bay will offer 196 apartments over 10 storeys,
Eagle Hills Diyar (EHD), the developer behind the Marassi Al Bahrain project, has unveiled its new residential project – Marassi Bay – located within the premium beachfront community development at Diyar Al Muharraq in Bahrain.
Marassi Bay is home to 196 bespoke apartments set over 10 storeys, featuring elegant indoor and outdoor facilities such as a temperature-controlled infinity pool, a gym, a barbecue area and several manicured gardens. Each apartment has its own balcony.
Overlooking the 2-km-long beachfront promenade, the Marrasi Bay will feature a host of amenities including diverse restaurants, beach clubs and cafes that accommodate different needs.
Speaking at the launch, Managing Director Dr Maher Al Shaer said: "We are delighted to announce that our new beachfront residential project Marassi Bay is now available for prospective buyers. This project represents the very best in contemporary luxury living that Bahrain has to offer and we anticipate great interest from investors as well as those looking to make Marassi Al Bahrain their permanent address."
Director of Marassi Al Bahrain Engineer Hayssam Youssef said: "Marassi Bay is a unique development with some of the best views found anywhere in Bahrain. Perfectly located for travel, shopping or relaxation, these apartments represent the very best in elevated lifestyle and contemporary living within the all-inclusive beachfront community of Marassi Al Bahrain."
"Construction work has already begun on Marassi Bay and it will not be long until the building occupies a spot on the Diyar Al Muharraq skyline," he added.