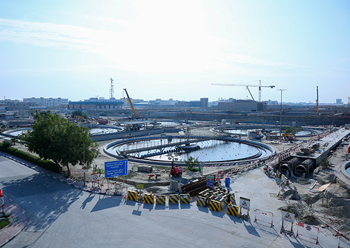 Bahrain's first sewage treatment plant in Tubli.
Dadabhai Construction, a leading Bahrain-based construction company, has been awarded a major housing development project in the kingdom as part of the Government Land Development Programme (GLDP). The project, which is being undertaken in collaboration with Eskan Bank and the Ministry of Housing, will see the construction of 280 villas in Khalifa Town.
This apart, the contracting company is among the four companies in the race to develop a further 131 villas in Salman City also as part of the GLDP plan, under which a total of 19,000 homes are expected to be built for citizens over 10 years in partnership with the private sector.
Dadabhai Construction has a 60-year legacy in building and development in Bahrain. The company is currently working on a number of major projects in the kingdom. These include the development of Bahrain's first sewage treatment plant in Tubli, a key project for the Ministry of Works (MOW), which is expected to be completed by 2024. Other projects involve the maintenance of public schools and sports facilities for the MOW and Ministry of Youth and Sports.
Dadabhai ... a licensed LEED architect.
"Among other projects, Dadabhai Construction is now close to finishing work on the revamped Sheraton Hotel in the heart of Manama, having recently completed notable landmarks such as the Address Beach Resort Bahrain at Marassi Al Bahrain in Diyar Al Muharraq, and the Bahrain Institute of Banking & Finance (BIBF) headquarters at Bahrain Bay," the company's new Executive Director Mohammed S Dadabhai, told Gulf Construction.
Dadabhai is a licensed LEED architect with a strong academic background. He has spearheaded the company's digital transformation, which includes the implementation of a one-of-a-kind custom ERP system and the use of two major construction software, Revit and Cubicost, to streamline the design and tendering processes.
"Dadabhai Construction is the first company to use Cubicost for tendering," he pointed out.
The company is also committed to giving back to the community, Dadabhai said.
Work is nearing completion on the revamped Sheraton Hotel.
"Dadabhai Construction organises yearly medical check-ups in its labour camps and, in collaboration with the Ministry of Interior, it offers ex-convicts opportunities to work in the company. It also has an internship programme for final-year college students. Since the launch of the programme, the company has given three full-time positions from the batch of interns. Also, to further enhance the skills of its staff, the company conducts monthly software workshops," he pointed out.
With its strong track record, experienced leadership, and commitment to social responsibility, Dadabhai Construction is well-positioned for continued growth in Bahrain, Dadabhai added.