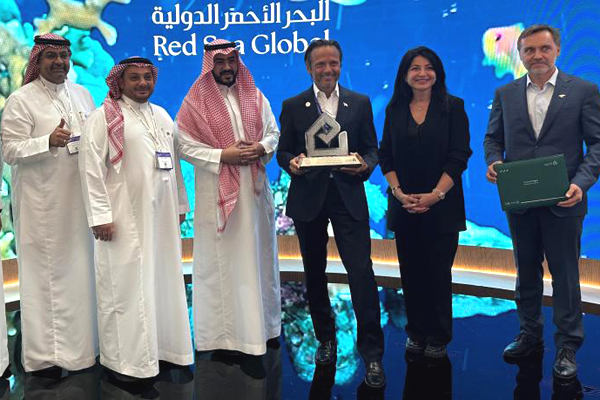 Red Sea Global (RSG), the multi-project developer behind the world's most ambitious regenerative tourism destinations The Red Sea and Amaala, has achieved the highest score recorded to date in the prestigious Platinum Leed (Leadership in Energy and Environmental Design) v4.1 Cities: Plan and Design accreditation from the US Green Building Council (USGBC), which serves as a testament to RSG's steadfast dedication to sustainability and marks a major milestone in the development of regenerative tourism destinations.
With an outstanding score of 96 out of 110 points for The Red Sea destination's Phase One masterplan, RSG has solidified its position as a global frontrunner in developing healthy and highly efficient, green buildings.
The accomplishment underscores RSG's proactive approach in exceeding industry standards to ensure a sustainable built environment.
"From the outset, our goal was to create a sustainable tourism destination that would redefine industry standards. We are proud to have achieved the highest ever score in this accreditation, setting the bar for ourselves and others to follow," said John Pagano, the Group CEO at Red Sea Global.
This accomplishment follows another recent accolade for Red Sea Global, as USBGC named it the 'Outstanding Developer' of the year at the LEED Homes Awards 2023.
Peter Templeton, the President and CEO of the US Green Building Council, said: "We are incredibly proud to award the prestigious Platinum Leed v4.1 Cities and Communities: Plan and Design certification to Red Sea Global. This achievement highlights their unwavering commitment to the environment and positions them as leaders in the industry."
"We believe that RSG will continue to set new standards in responsible development and inspire others to pursue sustainable practices. Congratulations to Red Sea Global on this record-breaking LEED certification for The Red Sea destination," stated Templeton.
RSG's journey with LEED for Cities and Communities began in 2019 when the USGBC met with the company's Head of Design, encouraging the company to pursue Leed v4.1 for Cities: Plan and Design.
Raed Albasseet, Group Chief Environment & Sustainability Officer at RSG, said: "When USGBC brought this scheme to us, we recognized its potential as a perfect fit for our aspirations at RSG. It allows cities to plan, design, develop, measure and improve performance, focusing on outcomes from ongoing sustainability efforts."
"We're infinitely proud that our vision for a sustainable tourism destination became the foundation for the accreditation, and that we have been able to achieve the highest score ever accomplished," stated Albasseet.
Last month, The Red Sea welcomed its first guests. Two of its hotels are open for bookings and the Red Sea International Airport has been receiving a regular schedule of flights since September.
Upon full completion in 2030, the destination will comprise 50 resorts, offering up to 8,000 hotel rooms and more than 1,000 residential properties across 22 islands and six inland sites. The destination will also include luxury marinas, golf courses, entertainment, F&B, and leisure facilities.-TradeArabia News Service