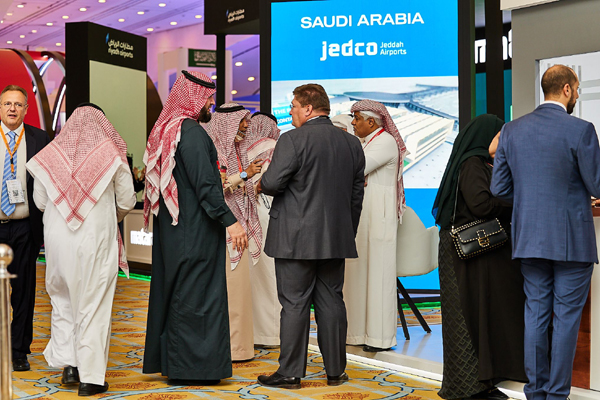 The second edition of the Saudi Airport Exhibition (SAE) is all set to be another highly successful B2B platform when it opens its doors for a two-day run on December 19 at the Riyadh International Convention and Exhibition Center (RICEC) with more than 250 global companies from 50 countries along with 250 regional buyers taking part.
In its debut edition, SAE had attracted over 150 exhibitors from 25 countries who showcased their products and services to airport industry professionals in the Arabian Peninsula's largest and most populated country.
The B2B exhibition will have on its sidelines three co-located events, including the first-ever Airport Excellence Awards for professionals and organizations in five categories.
The only airport-dedicated event in the kingdom is being organised by Niche Ideas and NCX with Matarat Holding, the General Authority for Civil Aviation's arm that transforms and promotes Saudi airports, as the platinum sponsor, and leading Saudi local organizations, including APSCO, Metco, SGS and Saudi Sicli as gold sponsors and Ground Handling Logistics as badge sponsor.
On the upcoming show, Daksha Patel, the Event Director, said: "As a premier global airport development event, we will once again highlight the impressive aviation growth, technologies and business expansion opportunities over this decade in the kingdom which remains amid a massive socio-economic and infrastructural transformation with its economy crossing the $1 trillion mark for the first time in history, ahead of its 2025 target."
The kingdom, according to the World Tourism Organization (WTO), was the world's second-fastest-growing tourism destination and one of the top countries receiving international tourists in 2022.
In this edition, Daksha said it will welcome over 6,000 international visitors and more than 600 delegates who will join from a broad spectrum of the aviation industry sectors.
"The kingdom will continue to remain the world's most exciting aviation market as it aggressively pursues an ambitious aviation agenda to become the world's fifth-biggest air passenger transit hub," she added.
According to her, the kingdom's emergence as the most promising travel and tourism market can be judged by several trends and developments.
"The fastest growing tourism market in the G20 has set for itself the goal of handling 330 million passengers and 4.5 million tons of air cargo by the end of this decade, along with having a 250-plus destination connectivity from across its 29 airports, of which the King Abdul-Aziz International Airport in Jeddah is getting expanded to accommodate 80 million passengers by 2035," she stated.
Meanwhile, the under-construction Riyadh-based King Salman International Airport, one of the world's newest, largest, and most sustainable airports, with a target of 120 million travellers by 2030, is amongst a host of major new airport, expansion and airport PPP projects being developed under Vision 2030, the massive economic development program with $100 billion dedicated to the air transport sector.
It is launching two new state-owned airlines to handle an unprecedented rush of visitors following the most relaxed visa regime since 2019, enabling people from across the globe to explore its history, arts and culture, including six World Heritage Sites.
In eleven sessions over two days, the Global Aviation Issues Conference, a co-located event, will see experts and specialists from across the world speaking about the Current State and Future of Aviation: Regional and Global Connectivity, Airline Industry Trends and Challenges, Regulatory Frameworks and International Cooperation, Emerging Technologies in Aviation, and Air Cargo and Logistics.
On the second day, the focus of discussions will be on Digital Transformation and Aviation 4.0, Aviation Security and Cybersecurity, Human Capital and Workforce Development, Environmental Challenges and Sustainable Aviation, Resilience and Crisis Management in Aviation, and Collaborative Approaches to Aviation Problem-Solving.
Saudi aviation leaders will utilize the platform to share the ways they were handling the surge in air travel, carrying out airport terminal expansion, ensuring smooth passenger flow management and widening the portfolio of passenger experiences.
By presenting the Airport Excellence Awards to 15 entities as winners and runners-up, the event will celebrate the outstanding best practices and exemplary contributions across a broad range of airport products and services, including Infrastructure Expansion, Sustainability and Environment, Ground Support Solutions, Innovation and Technology, and Passenger Experiences.
Another co-located event will be the Women in Aviation (WIA) General Assembly celebrating its 10th anniversary.
This by-invitation event will host over 500 attendees, including key Saudi government officials, aviation leaders, senior women officials and managers working in aviation across the Middle East region, top female students at Saudi colleges and HR managers from regional aviation businesses and government entities.
Vision 2030 paves the way for women to be provided equal opportunities across all economic sectors. Its key objective is to provide jobs for one million Saudi Arabian women by 2030; and invest in targeted training for Saudi women in key growth sectors like aviation.-TradeArabia News Service