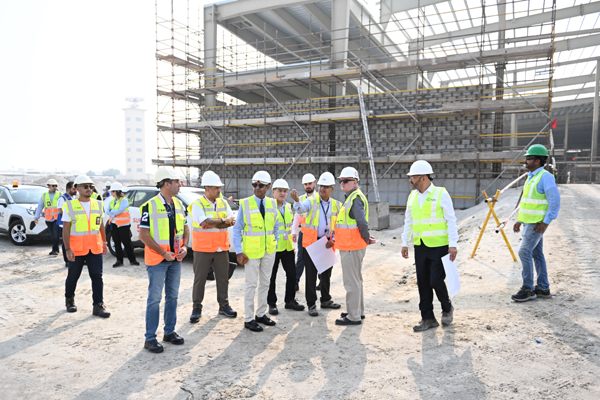 Bahrain Airport Company (BAC), the operator and managing body of Bahrain International Airport (BIA), has announced that work is in full swing at its Express Cargo Village with nearly 44% of the project already completed.
Located north of the airport's runway, the Express Cargo Village project consists of warehouses, aprons, and infrastructure capable of handling the expected growth in air freight and e-commerce. It will have designated buildings that will serve each cargo operator in line with the highest international standards.
Spread over a 25,000 sq m area of 10 modular warehouses, and supported by 19 units, with the distinct handling of around 1.3 million tonnes at full capacity, the Express Cargo Village at Bahrain International Airport is poised to be an advanced logistics hub.
Announcing the steady progress, BAC said work has also been completed on two FedEx facilities along with a central processing unit and a Duty Free outlet.
The Express Cargo Village project is aimed at enhancing the growth of the logistics industry and boosting its regional competitiveness and ability to attract investment.
With logistics as one of the high-priority sectors outlined in Bahrain's Economic Vision 2030, this project will vastly help increase BIA's cargo capacity in line with the highest standards as it will deploy advanced technologies to improve efficiency and meet growth targets for air freight and e-commerce opportunities, it stated.
"We are delighted to witness the significant strides made within phase one of the Express Cargo Village. As per masterplan, 44% of the project has been completed," said BAC Chief Executive Officer Mohamed Yousif Al Binfalah, following a inspection tour of the project site.
The Phase 1A, spanning 58,280 sq m area, will comprise 59% of the total development area of the Express Cargo Village, he stated.
"This phase has included completion of Two FedEx, a Central Processing Facility, a and a Duty Free which marks a significant step forward in our project timeline but also symbolizes efficiency, and strategic planning," he added.
According to BAC, the Express Cargo Village comes in line with Bahrain's Economic Vision 2030 and the national strategy for the logistics industry as laid out in its Economic Recovery Plan, which implements the Kingdom's vision.
"With the aim of promoting for the kingdom a preferred destination for cargo and e-commerce, Express Cargo Village is designed with high capacity and improved effectiveness to enable handling air freight with high efficiency and smooth movement of products, supported by Customs supervision and Support Office and truck parking space," he noted.
"We are confident that upon completion, Express Cargo Village will enable Bahrain International Airport to handle larger volume of cargo efficiently, attracting more trade opportunities and will contribute to elevating air freight," he added.-TradeArabia News Service