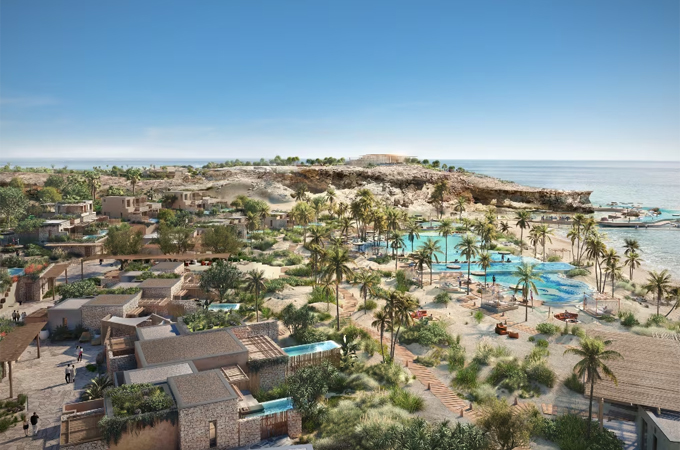 Six Senses – Triple Bay ... inspired by local villages
Saudi-based Ladun Investment Co has announced the signing of a contract by its subsidiary, Built Aluminum Factory (Bafco), for implementing aluminium and facade works at the Six Senses – Triple Bay, which is being developed by Amaala on the Red Sea.
The project is located in Al-Wajh Governorate, affiliated with the Tabuk region, and is one of the key projects of the Vision 2030 programme.
The contract, valued at SAR24.384 million ($6.5 million), covers facades for villas, hotels and palaces of the tourist resort, said a filing in the Saudi Exchange.
The duration of the contract is 454 days.
Spanning over 1,600 sq miles (4,155 sq km) of an unspoiled nature reserve, the Amaala project is blessed with dramatic coastal scenery, majestic mountainous backdrops, pristine white-sand beaches, and untouched coastal reefs.
The 64 rooms, six suites, 30 villas, and 25 branded residences of Six Senses – Triple Bay, designed by architects U+A and interiors by Studio Carter, are inspired by the region's traditional coastal villages, which seamlessly integrate with the naturally occurring topography and use locally sourced materials.
They will be located on one of the most dramatic landforms along Amaala's Triple Bay area, offering panoramic views across the Hijaz Cove to the Red Sea.
Bafco factory is located in the industrial area of ​​Huraymila Governorate and has annual production capacity of 31,000 sq m of building facades and cladding, 10,000 sq m of glass facades, 30,000 protection windows, aluminum windows and frames, 10,000 sq m of aluminum doors, and 5,700 linear metres of kitchens and counters. -TradeArabia News Service