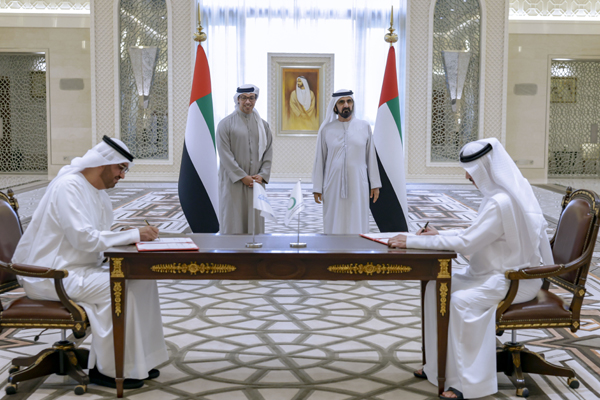 Dubai Electricity and Water Authority (Dewa) has awarded a major contract to Abu Dhabi-based Masdar for the construction of the 1,800MW sixth phase of Mohammed bin Rashid Al Maktoum Solar Park, at a total cost of AED5.51 billion ($1.5 billion).
Masdar, the UAE's clean energy powerhouse, emerged the winner with a Levelised Cost of Energy (LCOE) of $1.6215 cents per kilowatt hour (kWh), after beating competition from 23 high-calibre international bidders.
Masdar's bid was the lowest of any of Dewa's solar Independent Power Producer (IPP) model projects to date. Also for the sixth phase it will be using photovoltaic solar panels based on the Independent Power Producer (IPP) model.
The agreement was signed by Dr. Sultan bin Ahmed Al Jaber, Minister of Industry and Advanced Technology, Chairman of Masdar, and Saeed Mohammed Al Tayer, Managing Director and CEO of Dewa in the presence of HH Sheikh Mohammed bin Rashid Al Maktoum, Vice President, Prime Minister, and Ruler of Dubai, at a key ceremony held in Abu Dhabi.
According to Dewa, the current total production capacity of solar projects at the solar park is 2,427MW.
The Dubai utility is building another project with a total capacity of 433MW. The 1,800MW sixth phase of the solar park will increase total production capacity to 4,660MW.
Speaking on the deal, Sheikh Mohammed said: "Today, I witnessed with Mansour bin Zayed the signing of an agreement between the Dubai Electricity and Water Authority and Masdar, Abu Dhabi Future Energy Company, to implement the sixth phase of the world's largest single-site solar park, at a cost of AED5.5 billion. This phase will power over half a million residences while reducing carbon emissions by 2.36 million tonnes annually."
"All phases of this landmark project are expected to be completed by 2030, with a total investment of AED50 billion. We're on track to achieve our ambitious goal - 100 percent clean energy for Dubai by 2050," he added.
Dr Al Jaber said: "Being awarded this landmark renewable energy project on the world's largest single-site solar park is another significant milestone for Masdar. It is a testament to Masdar's track record in pioneering clean energy projects as we continue to support the UAE's Net Zero by 2050 strategic initiative."
"Ahead of our nation hosting COP28 later this year, it is vital that the world triples global renewable energy capacity by 2030 to keep the ambition of 1.5 degrees within reach. This landmark project demonstrates definitive action in our shared journey towards a cleaner, greener future," he added.
Al Tayer said this agreement underscores the UAE's prominent status as one of the world's largest investors in clean and renewable energy projects.
"It also affirms our support for the UAE's hosting of the COP28 at Expo City Dubai, aligning our strategies and policies with the UN Sustainable Development Goals 2030 in sustainability, innovation and future-making," he added.
When completed, this phase will provide clean energy to approximately 540,000 residences and reduce 2.36 million tonnes of carbon emissions annually.
Masdar CEO Mohammed Jameel Al Ramahi said: "Following our successful delivery of phase three of the Al Maktoum Solar Park as part of an international consortium, this latest award once again shows that Masdar is a global leader in clean energy as we move forwards from 20GW capacity today to reach 100GW of clean energy capacity by 2030 driving decarbonisation at home and abroad."
"When fully completed, the solar park will reduce over 6.5 million tonnes of carbon emissions annually. The 1,800MW sixth phase will become operational in stages starting from Q4 next year, he addded.-TradeArabia News Service