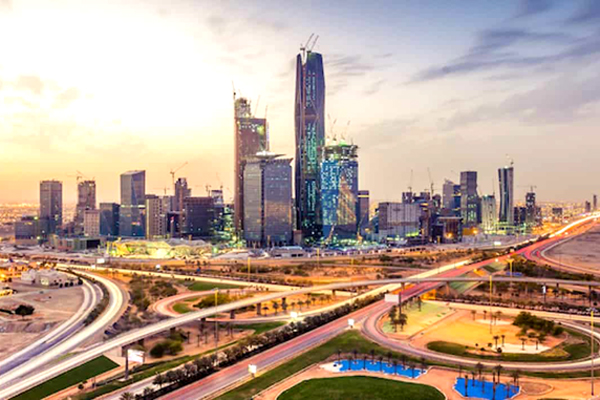 The total value of real estate and infrastructure projects launched, but are yet to be delivered, since the launch of Saudi Arabia's National Transformation Plan in 2016 has crossed $1.25 trillion, with the value of commissioned projects reaching $250 billion, according to global real estate consultancy Knight Frank's annual Saudi Giga Projects Report.
Knight Frank, in this report, analyses the value of real estate and infrastructure projects across the western half of the country, Riyadh and the remaining provinces.
Western Saudi remains a central piece in the transformative vision for the Kingdom, with $687 billion of real estate projects expected to be delivered by the end of the decade.
Faisal Durrani, Partner – Head of Research, Middle East & North Africa said: "Arguably one of, if not the most expansive real estate development programs ever seen in the world is gathering pace in Saudi Arabia as the 2030 deadline nears to realise Vision 2030."
"The volume of residential units planned has risen to 660,000 units, up 30% in the last 12 months, which will come as welcome news to house hunters prevented by the recent spike in values, which has underpinned a nation-wide decline in the volume of homes being sold," noted Durrani.
That being said, affordability is still a key hurdle for many buyers and so price points for the new inventory will be critical to reigniting domestic demand.
"Separately, the office pipeline is steady at 6 million square metres. This figure has of course been influenced by the 300,000 sq m of office projects that have been completed since last Autumn," noted Durrani.
"The swelling of the office pipeline is set against a backdrop of a severe shortage of prime Grade A space in cities such as Riyadh, which stands in stark contrast to other global centres where occupancy levels still trail pre-pandemic levels," he stated.
"Elsewhere in the commercial market, 5.3 million sq m of retail space is now planned, with a further 289,000 hotel rooms that will go some way to supporting Saudi Arabia's goal of hosting 100 million visitors by 2030, up from around 17 million last year, which made the Kingdom the 14th most visited nation in the world," he added.
Harmen de Jong, Partner – Head of Strategy & Consultancy, Saudi Arabia, said: "The western half of the kingdom contains the highest concentration of headline grabbing projects in the country, including of course NEOM, the $500 billion supercity."
"Over the course of the last year, various subcomponents in NEOM have been revealed, including Trojena, host location for the 2030 Asian Games and Sindalah, the luxury island and hospitality destination in the Red Sea, which will be the first of NEOM's projects to materialise. NEOM overall is also progressing rapidly, with $70 billion of projects now awarded, 45% of which has been completed," noted de Jong.
"The challenge for the nation's Giga project developers will be to cater to and appeal to domestic buyers, two-thirds of whom we know through our 2023 Saudi Report to have home budgets of under SAR1.5 million. With most GIGA projects expected to launch residential product at over $1 million, bridging this gap between demand and expectations will undoubtedly emerge as a key consideration going forward," he added.
On Riyadh, Knight Frank said the Saudi capital is a pivotal focus point for the country's transformation and currently accounts for 18% of all real estate and development projects underway, totalling some $229 billion.
"This includes plans for over 241,000 homes by 2030, in addition to 3.6m sqm of office space, the latter of course will come as welcome news to occupiers faced with a severe supply shortage that has helped to lift Grade A occupancy levels to 98%, on average," he added.
Knight Frank highlights King Salman Park as being one of the most advanced Giga projects in the city, with $8.8 billion of contracts awarded in the $9 billion development as it moves closer to completion in 2027, complete with over 12,000 homes, more than 600,000 sq m office space and over half a million sq m of retail offerings.
Durrani pointed out that Riyadh was a hive of construction activity as the city races to keep pace with demand in all real estate segments, while also balancing its vision to emerge as a key global financial and commercial capital.
"While the $229 billion development pipeline is itself significant, this is around a quarter of the planned $1 trillion total spend to transform the capital. Of note is Riyadh's ambition to secure hosting rights for the 2030 World Expo, which could further catalyse the pace of transformation and help to crystalise the city's grand vision," said the expert.
"Notably, as Riyadh grapples with a shortage of office space, exacerbated by the flurry of international businesses moving in to help deliver Vision 2030 in addition to many working to secure space ahead of the January 2024 deadline set out in the 'Program HQ' initiative, 3.6 million sq m of office space is now planned," he noted.
This, he stated, should help to alleviate the current dearth of prime space, but it will likely drive a reversal in the current growth in Grade A and Grade B rents, with the latter likely to stagnate, or weaken in the wake of new supply entering the market given occupier focus on best-in-class space," he added.
Knight Frank pointed out that away from the headline grabbing Giga projects around the kingdom, there is a growing emphasis being placed on the well-being of the Saudi Arabia's residents through the improvement and provision of world-class urban environments.
This includes Qiddiya's recent plans to expand to Jeddah with the $266 million Qiddiya Coast theme park, in addition to the $500 million Riyadh Sports Boulevard as well as the $23 billion 'Green Riyadh' which will transform the Saudi capital into a verdant metropolis through the planting of 7.5 million trees.
Elsewhere, Dammam's 650,000 sq m Amanat Al Sharqiya project will see the revitalisation of the city's corniche.
Shehzad Jamal, the Partner – Strategy and Consultancy, Middle East & Africa, said the emphasis on wellbeing extends to the 24,000 hospital beds planned, which is set to cost $39.5 billion, $27 billion of which is planned for Riyadh Province alone.
"Furthermore, 60 new educational institutions are being built at a cost of nearly $6.3 billion. Undoubtedly this focus on improving the liveability of cities across the kingdom will contribute not only to improving the lives of citizens and residents, but also positively influence the country's attractiveness to international talent and their families," he added.-TradeArabia News Service