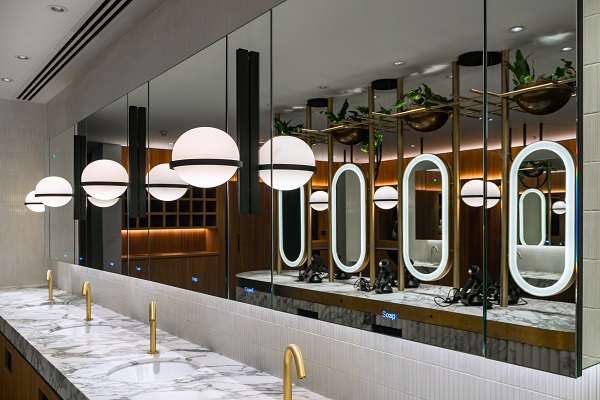 Sanipex, a leading bathroom and plumbing solutions provider in the Middle East, together with its local partner Loft by Etab, will be back next week at Index Saudi Arabia 2023 to showcase its innovative luxury European design-led ranges from its own brands - Bagnodesign, Bystro and Richmond.
A premier interior design, furniture, and fit-out trade event, Index Saudi Arabia 2023 is being held from September 10 to 12 at the Riyadh Front Exhibition & Conference Center.
During the event, Sanipex Group is set to unveil exciting new releases at its stand reaffirming its prominence among architects, designers, developers, and contractors, said a statement from the company.
The showcase will highlight innovative luxury European design-led ranges from its own brands - Bagnodesign, Bystro and Richmond - as well as a hand-picked selection from some of its iconic global partner brands.
With comprehensive solutions for both residential, hospitality, and commercial projects, Sanipex Group positions itself as the go-to destination for design professionals, it stated.
The surge in real estate projects, diversification into various sectors, like retail, medical, education and hospitality, along with the booming fit-out market affirm the demand for premium interior design solutions in Saudi Arabia, where Sanipex Group's exceptional products and expertise align perfectly.
From its exclusive suppliers, the group will also be presenting a variety of categories including Bathroom, Kitchen Appliances, Outdoor Living, and Hotel Amenities, featuring an incredible range of carefully curated lifestyle pieces with a focus on this year's emerging trends.
"Visitors can look forward to a trend-leading selection of Italian-led sanitaryware, furniture, brassware, mirrors, and accessories by Bagnodesign. The brand will be launching its new Chiasso brassware collection which reflects the trend of mixing natural materials with metal," said a company spokesman.
"This collection is available in four stunning finishes and 12 porcelain handle accents, which can be custom cut in its state-of-the-art Slab Fabrication Facility in Jebel Ali, Dubai, with the opportunity to correspond with the Alpine washbasins and countertop collection from the same brand," he added.
Additionally Sanipex will have on display the comprehensive Bristol range. Combining a soft, industrial style with bold statement pieces, Bristol is the perfect choice for emulating the rejuvenating ambience of an urban spa in the comfort of the home, with emphasis on the linear and cross brassware in on-trend finishes, complemented by the distinctive Galaxy Black bathtub and basins for a minimalistic chic look.
The exhibit will also include renowned bathroom brands Nobili, Axent, Jee-O, and Dolphin to really step up the offering. Synonymous with excellence, these trusted brands bring their latest innovations to the forefront. Tubes will also grace the stand with its avant-garde heating solutions in a number of stylish finishes to suit all bathrooms, said the statement.
Enabling complete kitchen solutions to be sourced from one supplier, the newly launched Bystro Kitchen brand allows design professionals to turn to Sanipex Group for quality, reliability and choice when working on their kitchen projects.
Expertly crafted in line with the latest European design trends, Bystro's exceptional Italian style and functionality will be showcased in an impressive indoor kitchen display.
The full range includes built-in cookers, microwaves, refrigeration solutions, wine coolers, and more. Complementing the brand will be Nobili's highly-refined kitchen mixers, crafted with 'Made in Italy' excellence.
As designers look to extend indoor comfort to outdoor spaces, Sanipex Group will be exhibiting its ultimate design solutions to inspire visitors.
"From a sleek, outdoor kitchen featuring bespoke slab kitchen countertops custom made in its Slab Fabrication Facility, to fire pits from Australia's leading EcoSmart Fire, and plush, weather resistant Outdoor Living furniture from Italian brands Talenti and Jati and Kebon, Sanipex Group will demonstrate its full capabilities in transforming outdoor spaces into inviting retreats, for family and hospitality guests alike," said the spokesman.
"Lastly, for designers seeking the ultimate finishing touches for a luxury hotel guestroom, look no further than Bagnodesign's versatile offerings in a choice of finishes suited to complement any design requirement, as well as the newly launched Richmond. Designed with luxury and comfort in mind, Richmond is a hand-selected range of hotel amenities to make the guests' stay memorable," he stated.
"From mini bars and safes to hair dryers, it combines user-friendly design with the latest technology, taking care of even the smallest details," he added.-TradeArabia News Service