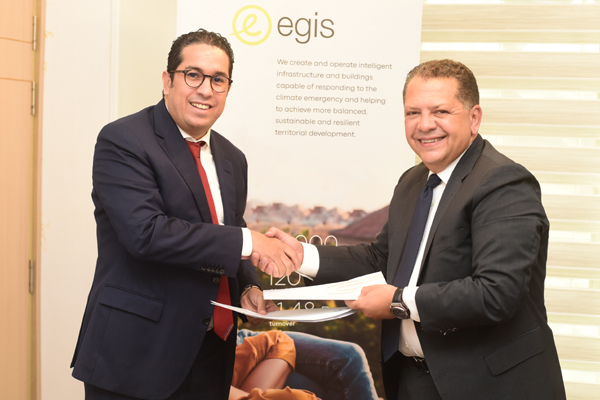 Egis, an international player in the consulting, construction engineering, and mobility service sector, has signed a consortium agreement to cover GV Groups' extensive hospitality portfolio in Egypt.
GV Group's portfolio pertains to luxury hotels, serviced apartments, sports and retail venues with prime locations across Egypt, in addition to historical touristic venues that reflect the Arab nation's cultural and heritage.
Egis' scope of services along with its consortium partner - Voltere, a subsidiary of Egis, includes exclusively providing consultancy services to elevate, develop and restore these prestigious projects.
The portfolio includes: White Sand – North Coast in Alexandria: 380 branded serviced apartments (380 keys), 180 seafront hotel keys and hotel apartments, a 5-star hotel in Mount Cairo, Katameya: branded serviced apartments, villas, and lodges, a hotel in Times Square, Port Said, Zamalek Boutique Hotel renovation: 30 rooms, Sultan Beach Hotel – Hurghada: 314 rooms, La Rosa Waves Hotel – Hurghada : 250 rooms, Badawia Resort – Marsa Allam: 200 rooms, El Sayadeen Village – Nuweiba: 99 rooms, Salah El Din – Taba: 114 rooms, and Salah El Din Historic Citadel Leisure destination.
Each establishment offers unique experiences and captures the essence of Egypt's rich heritage, it stated.
Under the agreement, Egis will bolster GV's development efforts by providing comprehensive commercial and technical services, it added.
The collaboration will leverage the specialized knowledge of Voltere by Egis, in hospitality consulting and strategies, thus ensuring a comprehensive approach to achieving the desired goals of optimizing the hotel suite and enhancing marketing strategies to give the GV brand further exposure within the industry and on an international scale.
GV Group CEO Sherif Hamouda said: "We are delighted to join forces with Egis and Voltere in this exciting venture. Their extensive experience and knowledge in the hospitality sector make them an ideal partner for our ambitious projects."
"Together, we aim to set new standards of excellence and provide unforgettable experiences to our guests," he noted.
Mohammad Ben Messoud, Egypt's Country Managing Director for Egis, said: "We are thrilled to continue our successful partnership with GV Group in a new area of focus. Our conglomerate's ability to provide diverse services across various industries allows us to tailor our expertise to meet GV's aspirations."
"Through our specialized business line, Voltere by Egis, we are confident in our ability to drive the development of GV Group's hotel portfolio," he added.-TradeArabia News Service