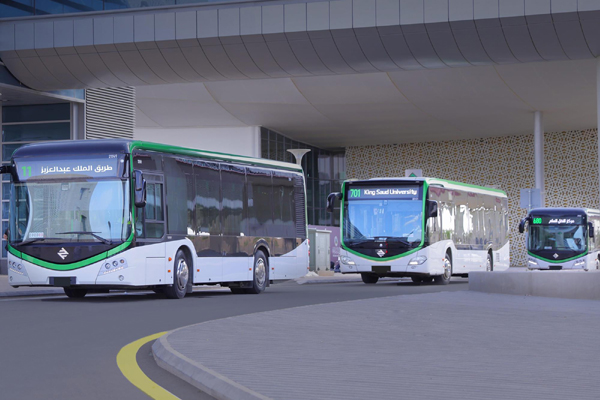 The Royal Commission for Riyadh City today (June 19) announced the launch of the second stage of 'Riyadh Bus' service (part of the King Abdulaziz Project for Riyadh Public Transport) which will witness the addition of 223 more buses serving the vast Riyadh city neighborhoods, providing access to 500 bus stations and stops covering 9 extra routes, including the extension of Line 11, dedicated bus lane service, as part of the overall 86 bus network routes.
With the addition of Stage 2, the overall network expansion encompasses 560 buses serving over 1100 bus stations and stops and a total of 24 routes; that to date witnessed 180,000 trips with over 2 million passengers, stated The Royal Commission.
The second stage of the "Riyadh Bus' expansion witnesses the coverage of 1120 km out of 1900 km of the total service covering the Saudi capital, with subsequent stages to follow within the five-stage launch plan to introduce more buses, stations as well as routes.
In line with the sustainability strategy for the city and driven by the need to reduce pollution with a focus on positively impacting the quality of life, 'Riyadh Bus' will help alleviate traffic congestion and reduce air pollution resulting from carbon dioxide emissions, it added.
The Royal Commission said the integration of a public transportation network plays a significant role in the city's development that will help boost the local economy, support logistics and transportation needs, and improve the urban environment.
With the aim to reduce pollution at the same time positively impacting the quality of life for people and city of Riyadh incorporating the Quality-of-Life programme, the project is a main pillar in the city's economic and urban transformation.
With a theme that builds on "more routes, stops, and buses" the 'Riyadh bus' stage 2 campaign covers key announcements featuring the "riyadh bus" app enhancements and ticket offering, said The Royal Commission.
The enhanced functions on the app include 'choose your journey' ease of selection, payment processes, and live bus tracking; that will further ease the usage of the app for the passengers helping in faster ticket purchase and seeing their routes live to select the best trip options, it stated.
More tickets options have also been added as passengers can select from purchasing a 3-day, 7 day, and 30 day passes, it added.-TradeArabia News Service