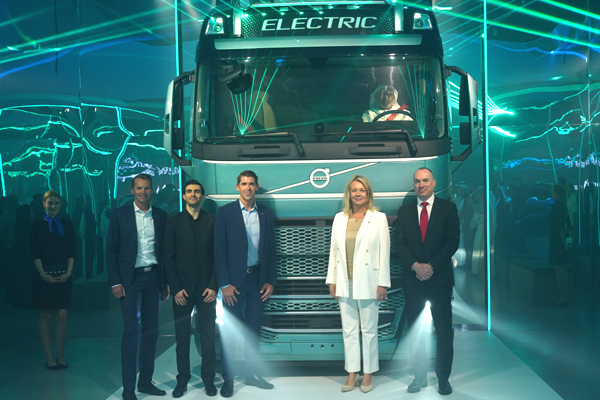 UAE-based Al Futtaim Auto and Machinery Company (Famco) has announced the launch of the first-ever heavy-duty electric truck from global auto giant Volvo in the Middle East, thus solidifying its position as pioneers in the market and their commitment to sustainable solutions in transportation.
This groundbreaking achievement by Famco represents a significant stride towards reducing transportation-related emissions to zero, aligning with the UAE's sustainable development strategy as the whole country prepares to host the COP28 in November 2023, said a statement from Famco.
The Volvo FH Heavy Duty Electric Truck boasts a gross combination weight (GCW) of up to 44 tonnes; has an impressive range of up to 300 km in addition to a rapid charging time of 2.5 hours (DC) / 9.5 hours (AC) as well as exceptional driveline performance of up to 490 kW / 666 hp, it stated.
Established in the UAE in 1978, Famco serves a diverse range of industries and commercial businesses across the transportation, construction, oil and gas, manufacturing, warehousing, and marine sectors.
Its portfolio includes trucks and buses, construction equipment, storage and handling, power and industrial, marine solutions, rental and used equipment and financial services.
Famco is the sole UAE distributor for Volvo trucks, buses and construction equipment; and also the exclusive distributor for internationally renowned industry heavyweights, Yanmar, Doosan, Himonisa, AGG, SDLG, Ingersoll Rand and Linde.
The launch of the first-ever heavy-duty electric truck in the region was held recently at AlSerkal Avenue – Concrete which was attended by top executives, business CEOs as well as partners.
Speaking at the launch, Famco Managing Director Said Ramez Hamdan said: "Famco is part of the Al-Futtaim Automotive Group, and the group continues to introduce new products and services to keep the UAE moving towards building a more sustainable future of mobility and support the UAE's Net-Zero 2050 strategic goals."
"While we currently offer a wide range of hybrid and electric vehicles, the launch of the first-ever heavy-duty electric truck range by Volvo represents a huge leap into a greener future," he stated.
"Through investing in Volvo's electric trucks, business partners can, not only electrify their fleets but also, become pioneers in the green transportation movement, and eventually, a better future for us all," said Hamdan.
The UAE, known for its forward-thinking approach, embraces this new era of transportation with Famco at the forefront as the year of suitability unravels with green solutions and sustainable inventions every day, he added.
Unlike other companies still in the testing or trial stages, Volvo offers a full range of electric trucks that are tested and available for purchase, as the first truck was already sold to Unilever, the FMCG giant for their UAE operations.
Ahmed Kadous, Unilever's Head of Supply Chain Mena & Personal Care Category in the Middle East & Turkey, said: "We are committed to achieving net zero emissions throughout our value chain by 2039. Logistics will play a crucial role in achieving this ambition as it contributes up to 15% of our emissions. To achieve this, we want to push our business beyond its current limits to see how we can address the current environmental crisis."
"This is why we are pioneering the green transportation movement in the UAE, and this electric truck forms the second addition to our delivery fleet. Earlier in March we added the first Electric Van (EV) to our UAE delivery fleet, which was also the first in the UAE," he added.-TradeArabia News Service