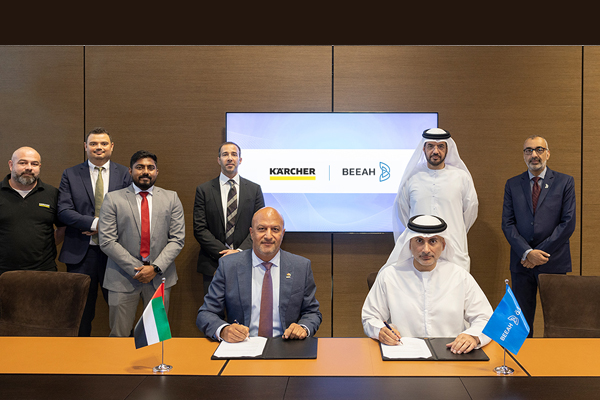 Karcher, a global leader in cleaning technology, and Beeah Group, the region's leading sustainability and digitalisation expert, have announced collaboration across multiple projects and areas of interest that aim to maintain a cleaner city environment and improve the overall quality of life of residents across the region.
The MoU is aimed at enhancing their strategic collaboration in key areas of technology enhancements, such as robotic cleaning solutions, said a statement from Karcher.
This collaboration aims to drive innovation and efficiency in waste management practices, further advancing the sustainable development goals of the UAE.
It marks an important milestone in the ongoing collaboration between the two thus paving the way for ground-breaking initiatives in the field of waste management and environmental sustainability. The agreement will cover not only the UAE, but Egypt and KSA where Beeah also operates, it added.
As per the deal, Karcher will be the preferred partner in the supply of equipment for large sweepers for Beeah's municipal contracts.
The collaboration will enable Beeah Group to leverage Kärcher's cutting-edge cleaning technology to enhance waste management operations and maintain the highest standards of cleanliness in public spaces.
Improved fuel efficiency and better maintenance cycles results in the equipment being operationally available for a greater period of time, aligned with UAE Sustainability Agenda, said the statement.
The forward-thinking strategy of partnering directly with the principal, rather than intermediaries will provide an unparalleled level of service and sales proposition for customers, it stated.
The MoU was inked in the presence of Joe Lahoud, the Managing Director of Karcher Middle East, Khaled Al Huraimel, Group CEO of Beeah Group, and Fahad Shehail, Group COO at the Beeah Headquarters.
"We are excited to collaborate with Beeah Group, a prominent leader in environmental sustainability," said Lahoud.
"This collaboration reflects our shared commitment to driving innovation and delivering state-of-the-art solutions for cleaning, waste management innovation and sustainability. The Middle East region has it sets of unique challenges in this domain and together we aim to significantly improve the way cleaning is done and waste is managed, ensuring a greener and more sustainable future," he stated.
"We are delighted to establish a close working relationship, fostering a strong collaborative connection, with Karcher. This MoU signifies our commitment to enhancing waste management practices and elevating the cleanliness standards in our communities," remarked Al Huraimel..
"Kärcher's advanced cleaning technology and expertise will undoubtedly contribute to our mission of creating a sustainable and cleaner environment. We look forward to co-developing a progressive working plan on solutions moving forward," he added.-TradeArabia News Service