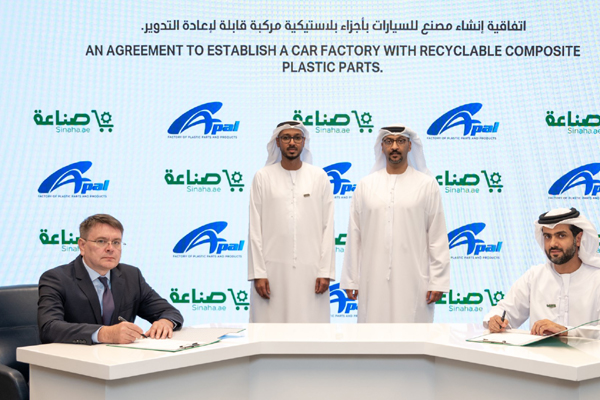 Sinaha Platform, an Emirati e-commerce and marketing platform specialised in promoting national industries and products, has signed an agreement with international partners to build the first automobile facility in Abu Dhabi that manufactures automobiles from recyclable composite plastic materials.
The move is aimed at establishing Abu Dhabi as a prominent auto hub for sustainable production, reported Wam.
This initiative marks a significant milestone for the country's automotive industry, contributing to the achievement of Operation 300Bn and the Abu Dhabi Industrial Strategy.
The vehicles produced in this facility will feature eco-friendly and recyclable external structures, promoting environmental sustainability and incorporating technologies that enhance fuel efficiency by reducing weight and material consumption, it stated.
In addition to catering to local demand, the factory will supply the international market with affordable, high-quality cars equipped with advanced four-wheel drive technology, it added.
The agreement for the plant was signed by Kardous Mohammad bin Salem bin Kardous Al Ameri, Deputy CEO of Sinaha, and Kirill Kuzin, Director-General of APAL International, during the 'Make it in the Emirates Forum' held recently in Abu Dhabi.
The deal is also in alignment with the UAE's upcoming hosting of the 28th session of the Conference of the Parties (COP28) in November.
Sinaha Chairman Mohammed bin Salem bin Kardous Al Ameri said the purpose of the platform was to improve quality investment opportunities to build a more sustainable, efficient, and competitive industrial sector in a way that supports the national economy and global climate action plans.
"In Sinaha platform, we support all national efforts and strategies in an integrated way with all partners to support the national industrial sector and improve industrial capacity. Our products proudly carry the "Made in the Emirates" mark and target local, regional, and international markets," stated Al Ameri.
Made using local raw materials, the new vehicle model has a highly advanced and effective damping protection system that meets all applicable standards. The model will feature two engines; an economical petrol engine and an all-electric engine, he added.-TradeArabia News Service