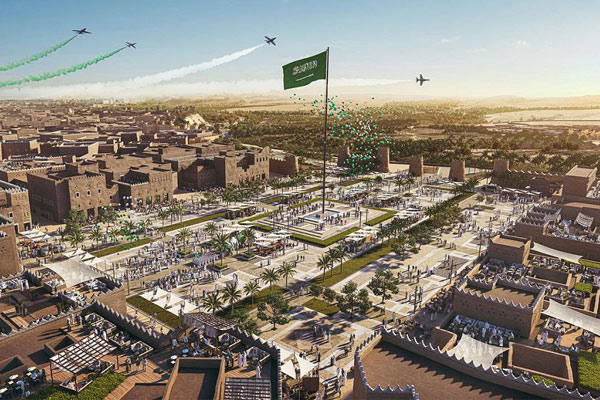 Saudi-based Diriyah Company has achieved a major construction milestone clocking 50 million safe man-hours across its immense project portfolio, thus setting a new benchmark for safe construction and excellence in occupational health and safety management.
The key development has already welcomed a million visitors in the five months since the opening of its first two physical offerings, said a statement from Diriyah.
With a daily workforce of over 21,000 and in excess of 1,100 pieces of heavy equipment on site, this landmark achievement establishes a new regional benchmark for safe construction and excellence in occupational health and safety management.
As Diriyah Company delivers on its commitment to continually improve safety practices and conditions to protect employees, communities, and the environment, it is providing relevant stakeholders, from project management consultants to construction teams, with a tried-and-tested framework for the elimination, control and minimization of safety risks and construction accidents, it stated.
Diriyah Company pointed out that its Occupational Health and Safety (H&S) department is responsible for the health and safety of all company personnel and ensures that their activities do not put anyone at risk.
The H&S department's emergency and disaster management programme ensures efficient responses to emergencies across its construction sites, it stated.
In a testament to the efficient management of the project, "TUV Austria", the international accreditation body certified that Diriyah Company's Occupational Health and Safety Management System is fully compliant with ISO-45001 Standards, with zero non-conformance found.
On the key milestone, CEO Jerry Inzerillo said: "A project of this calibre and historical and national importance demands commitment to the highest standards of health and safety. As we develop historic Diriyah into a world-leading leading destination to live, visit and work, we are constantly seeking new ways to improve and enhance the welfare of our workforce and management of our work."
"Reaching this milestone is a testament to the success we have had to date. As we look to the future, we will continue to unwaveringly deliver unmatched building quality and the best working environment for all our staff," he noted.
The H&S Quality-of-Life Program established a range of internationally recognized worker welfare standards that all contractors, sub-contractors and companies working for Diriyah Company must adhere to.
Monthly inspections are conducted by company representatives and, if required, corrective measures must be taken within four weeks of the report being issued, he explained.
Diriyah Company's H&S department have led the development and implementation of a dedicated H&S management system, aligned to the best standards across the entire project development.
This has ensured that consistently high international standards of health and safety are being implemented and monitored on a regular basis, a testament to the Company's commitment to worker welfare and best-in-class project management, he added.-TradeArabia News Service