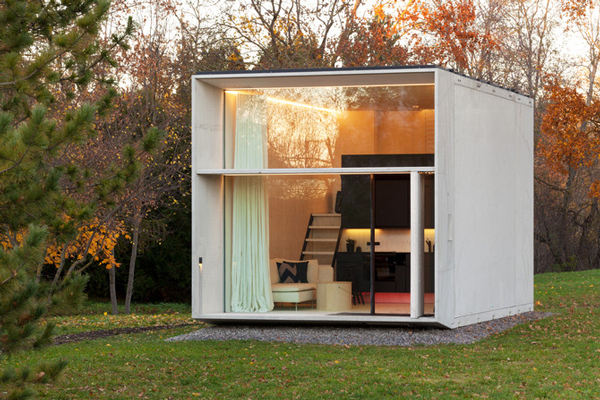 KODA movable modular unit
Kodasema, an architecture, design and engineering firm and the manufacturer of award-winning KODA movable modular housing solutions, has announced a tie-up with Dubai-based Presidio.
Through this agreement, KODA houses will be brought to the Middle East with focus on the territories of Saudi Arabia and the UAE.
"This partnership agreement with Presidio will help identify and secure strategic partnerships leading to the sale of KODA by Kodasema modular houses in hospitality, residential, commercial and other real-estate functions," said Birgit Linnamäe, CEO of Kodasema. "The demand for affordable, sustainable and high- quality housing solutions in Saudi Arabia and the UAE has been increasing rapidly in recent years, making it a promising market for us. Our innovative and advanced modular housing solutions offer a cost-effective and sustainable solution for the region's housing needs. With this partnership, we aim to establish a strong presence in the region and expand our reach across the Middle East."
Significant value
Jourdan Alexander-Younis, Director of Presidio, said: "We believe that this partnership has the potential to deliver significant value to our clients and contribute to the region's growth and development, also within the strategic framework Saudi Vision 2030.
"In addition to Saudi Arabia and UAE, our partnership agreement includes the territories of Qatar, Kuwait, Oman, Israel and Egypt, making sure Kodasema is well-positioned to become a leading provider of modular housing solutions in the Middle East."
KODA houses are fully factory-built and are transported to the destination in one piece, if desired then also furnished. This makes the production of houses and installation of whole communities or two-storey properties at the customer's location significantly more flexible, sustainable, cost-efficient and faster than traditional construction. Kodasema's product portfolio includes a total of 9 different house designs, all of which can be stacked on top of each other, combined and installed offshore on pontoons in the water to float.
Rapid increase
In the next two years, Kodasema expects a rapid increase in sales volume and orders, as well as an additional increase in licensing into new countries and markets.
Kodasema has distributors or licence partners in more than ten countries. The main export markets are Germany, Austria, the Netherlands, Belgium, the Nordic countries, Ireland and the US.
In addition to the hospitality industry, Kodasemas's main customers are real estate developers, local governments and private individuals who want high-quality, well-designed, energy-efficient and environment-friendly living spaces and accommodation solutions. Kodasema's furthest market is currently Australia, where the company operates via a local licensing partner.-- TradeArabia News Service