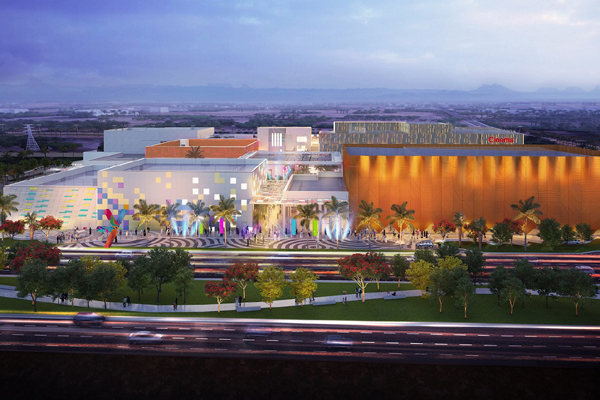 Saudi Entertainment Ventures (Seven), a wholly-owned subsidiary of the kingdom's sovereign wealth fund PIF (Public Investment Fund), has started work on its key leisure destination in Tabuk region.
Designed by world-renowned architects, Gensler, Seven's entertainment destination in Tabuk will come up on a land area of 40,000 sq m.
Located on King Faisal Road, the Tabuk project, which has a development value of more than SR1 billion ($266 million), will transform the entertainment landscape in the region with a wide range of attractions and experiences.
The project, which boasts over 72,500 sq m of built-up area, has been designed as a village nestled between gardens and recreational spaces, thus creating an extension of this environment within.
The entertainment destination welcomes guests under a coloured glass canopy inspired by local arts and traditions. An innovative hydroponic tower, inspired by, and paying homage to, the agricultural contribution of the city to the Kingdom, creates an iconic attraction in the heart of the entertainment destination.
Seven had awarded the development contract to Saudi builder Al Bawani and Company at the Municipal Investment Forum (Furas), organised by the Ministry of Municipal and Rural Affairs (MoMRA).
On the ground breaking, Chairman Abdullah AlDawood said: "We are excited to be bringing our exciting new entertainment experiences to the people of Tabuk. We have appreciated the city's rich culture and heritage in the development of our entertainment destination, infusing it with Tabuk's unique features and ensuring that our destination will cater to the needs of all in Tabuk."
"Our entertainment destination gates will support the local economy, create job opportunities for the city's people, and enrich the lives of those living in and visiting Tabuk," he stated.
Albawani Holding Group CEO Fakher AlShawaf said: "We are thrilled to be part of Seven's entertainment project in Tabuk. Our commitment to Seven is to deliver world-class entertainment facilities. The entertainment sector is growing rapidly in the Kingdom, and we aspire to support it to become a social and economic catalyst."
Seven's entertainment destination in Tabuk will also feature an e-karting experience under Mattel's Hot Wheels brand for both adults and children to enjoy, a 12-hole indoor adventure golf course integrating the latest technology to tailor individual experiences, a 10-lane futuristic bowling experience and a 10-screen cinema.
There will also be a multi-purpose event space hosting a variety of events and a wide variety of local and international retail, food and beverage outlets, he added.-TradeArabia News Service