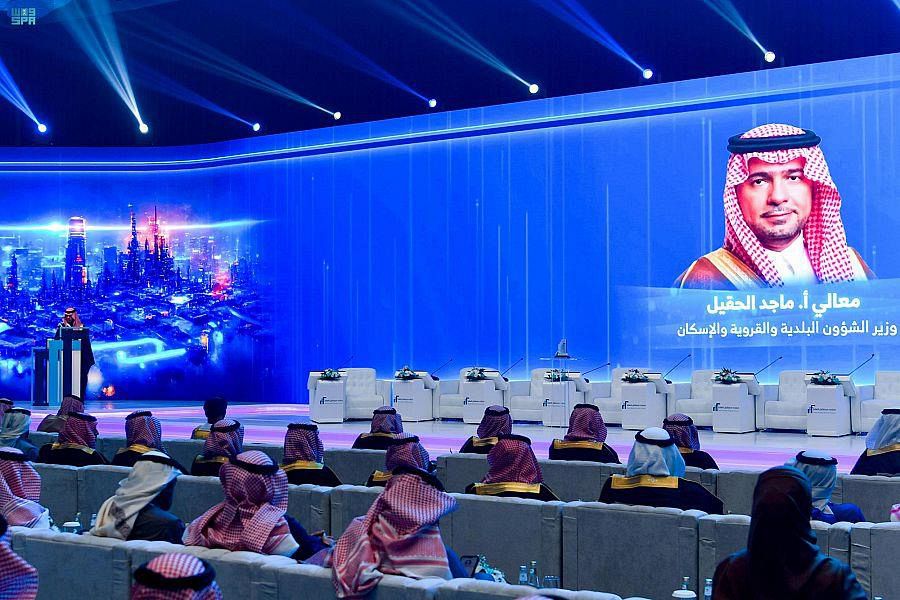 The second edition of the Real Estate Future Forum kicked off today (January 23) in Saudi capital Riyadh featuring more than 150 speakers from both the kingdom and abroad as well as 60 participating pavilions.
It was inaugurated by Minister of Municipal and Rural Affairs and Housing Majed bin Abdullah Al Hogail in the presence of Prince Dr Faisal bin Mishaal bin Saud bin Abdulaziz, Governor of Al Qassim Region, Prince Saud bin Talal bin Badr bin Saud, Al Ahsa Governor, and several ministers and senior officials, reported SPA.
The Forum is being held in conjunction with the launch of the real estate brokerage bylaw, which is one of the most important enablers for the development and governance of the real estate sector, digitizing its operations and serving beneficiaries, so that the real estate sector in the kingdom can be vital and attractive and be able to stimulate investment for enjoying reliability and transparency in all real estate activities.
The three-day event witnessed signing of agreements worth over SR10 billion ($2.6 billion) in the field of real estate development and construction techniques, and the establishment of four investment funds to develop commercial, tourism and residential projects, it stated.
In his opening address, Al Hogail said the Saudi real estate sector was one of the key pillars of the national economy, and hence enjoyed unlimited support from the wise leadership.
The kingdom, he stated, was keen to organise and develop the sector, improve supervision mechanisms, raise its efficiency and encourage investment in it, and enable it to increase its contribution to the GDP.
"The forum this year deals with 10 strategic areas, the most important of which are: the role of regions, governorates, ministries and secretariats in harmonizing the empowerment of the real estate sector; regional efforts and their impact on the growth of the real estate sector in the region; the future of real estate investment; real estate regulations between implementation and oversight; and the private sector between regulations and empowerment in the real estate sector," he added.