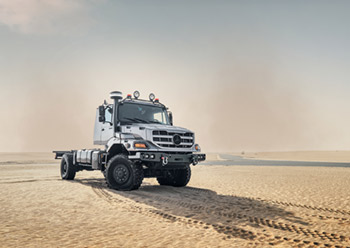 Mercedes-Benz's Zetros results from more than 120 years of experience and know-how. Manufactured in the German town of Wörth at the largest truck assembly plant in the world, this unique off-road truck stands for the excellent quality associated with the 'Made in Germany' label.
Heiko Schulze, CEO of Juffali Commercial Vehicles (JCV), the agent for Mercedes-Benz in Saudi Arabia, says: "As a pioneer in the KSA, we understand the complex and demanding requirements of the oil and gas industry and offer suitable transport solutions to support your business fully: To transport pipes, chemicals, drilling equipment, staff, fuel, water, and other materials to and from explorations and drilling sites, many of them in the most challenging terrains and most remote locations. Each vehicle is developed, built, and tested with daily use in mind. Only a truck that can fulfil the demands of practical operation can meet our expectations – and yours, too."
Mercedes-Benz is presenting the Zetros – more powerful, uncompromising, and versatile than ever before. Right down to the smallest of details, it's made for extreme conditions, be those on the road or in rough terrain, he says.
"Get to know the Zetros and discover why we rightfully stand by our slogan: Trucks you can trust, adding more power than ever. Tried-and-tested features remain while what is better has been further improved. Without compromise, the Zetros is now pursuing its mission: to reach every destination. And now it's even more powerful," Schulze adds.
In addition to its extraordinary off-road qualities and proven operational strength under extreme conditions, the striking cab-behind-engine truck is now a reliable contender for long-distance haulage, too – for rough and dusty tracks, for example, or for asphalt roads in disrepair – offering limitless resilience.
The Zetros overcomes potholes and muddy ruts, mountains and hills, sand, dust, cold, and heat. While impressing driver and crew alike with its comfort and safety, the Zetros is the perfect vehicle off-road and on the road. Wherever a conventional truck reaches its limits, the Zetros continues its journey, thanks to proven electronic systems and easily accessible technology, he remarks.
Twelve variants of the Zetros are available ex-works – as a dumper, platform vehicle, or semitrailer truck; with two or three axles; with or without all-wheel drive; and compliant with Euro III emissions standards. Whatever the destination, the Zetros is a perfect choice, Schulze points out.
THE ENGINE CONCEPT
The overall concept of the Zetros is also reflected in the engine: High output (360 hp – 476 hp), long maintenance intervals, and low service expenditure were the focus from the start. The Zetros is available as a 4×2/4×4 vehicle with a six-cylinder in-line engine in the weight variants 18–22 tons. The 6×4/6×6 variants of the Zetros with a six-cylinder in-line engine are available as 25–40-ton weight variants. As a three-axle semitrailer tractor powered by the OM 460 engine, with a permissible gross combination weight of up to 120 tons, the Zetros offers enough reserves to reliably transport the heaviest loads on multi-axle trailers far beyond paved roads, he states.
Juffali Commercial Vehicles offers the truck with a two-year or 250,000 km warranty, whichever comes first – first year bumper-to-bumper and second year on the powertrain.