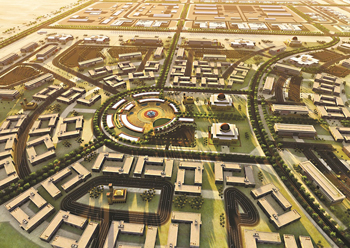 Spark ... to cover a total area of 50 sq km.
King Salman Energy Park (Spark), the region's only integrated energy hub, is gearing up to see the completion of work on the SR6-billion ($1.6 billion) first phase of infrastructural development of the massive 50-sq-km site.
The fully-integrated industrial city is being developed with a vision to become the leading gateway to the regional energy sector, offering a complete spectrum of services to support business growth in the kingdom.
Spark is strategically located in the Eastern Province of Saudi Arabia between Dammam and Al Ahsa. The first of the three phases of the development, which is due to be completed this year, consists of infrastructure, roads, utilities and real estate assets over 14 sq km, in addition to a dedicated 3-sq-km logistics zone and dry port.
The city offers infrastructure built to international specifications for global investors in the crude oil and gas industry and refining, petrochemical industries, electric power, and water production and treatment. It will comprise five focal areas: upstream, downstream, petrochemicals, conventional power, and water and wastewater.
The energy hub has already attracted a large number of tenants and investors, exceeding the plan for its initial land/facility offering by over 15 per cent, and accelerating future development, according to the developer.
Spark has seen impressive growth since December 2018, when HRH Prince Mohammed bin Salman bin Abdulaziz, Crown Prince, Deputy Prime Minister and Minister of Defence, laid the foundational stone for what is designed to become a global centre for the energy industry and technology.
Sustainability
Already recognised as the first industrial city in the world to obtain Leed (Leadership in Energy and Environmental Design) Silver certification from the US Green Building Council (USGBC), Spark has announced the deployment of multiple innovative construction solutions that promote sustainability – many of which are being adopted in Saudi Arabia for the first time, as the energy hub spearheads a drive for more environment-friendly building technologies that support the Circular Carbon Economy framework. They include "green" concrete that incorporates recycled materials, modular steel connections and glass-fibre-reinforced (GFRP) rebar in bridge decks.
Spark Chairman Dr Mohammad Yahya Al-Qahtani says: "Spark is proud to announce a wide range of sustainability initiatives that are being deployed for the first time in the Kingdom of Saudi Arabia. These practices reflect our approach to construction that utilises the latest advances in technology to maximise efficiency, minimise environmental impact and create a world-class energy ecosystem."
Spark has become the first organisation in Saudi Arabia to use Podzolic green concrete, a newly developed building material that uses local recycled materials as a partial replacement for cement. Material produced as a byproduct of local manufacturing processes is assimilated, while still offering the equivalent properties and durability. Capturing locally produced waste-materials and re-employing them in construction will help reduce landfill disposal and reduce carbon dioxide emissions associated with cement production, according to a spokesman for Spark.
Spark has also become the first entity in Saudi Arabia to pilot ConXtech steel connection technology for a commercial building. Incorporated into its administration building, this modular method for steel erection allows beams to be interlocked using non-metallic materials and slotted into position – rather than welding and bolting steel beams together. The benefits include increased construction efficiency, reduced material waste and improved site safety –and the 400 tons erected in two weeks by Spark would have taken at least six weeks using conventional methods, he says.
Additionally, in a first for the Middle East and Africa, Spark has deployed GFRP rebar as a non-metallic replacement for epoxy steel reinforcement in bridge decks. This is a lighter, stronger, and easier-to-handle material that will not corrode, thus reducing waste and maintenance. Using GFRP rebar will reduce the weight of steel reinforcement on bridges at Spark by 70 per cent, he points out.
Meanwhile, as part of its effort to maximise the use of natural resources and improve the quality of the local environment, Spark is evaluating the use of Liquid Nano Clay (LNC).
"This process allows nano-particles of clay to be bound to sand particles, thereby creating a soil that allows plants to flourish in hyper-arid areas where they otherwise would not survive. LNC enriches sandy soil to qualities comparable with high-quality black farming soil, retaining nutrients and high levels of water, and minimising water wastage," the spokesman explains.
The construction approach adopted by Spark is in line with the Circular Carbon Economy, a concept championed by Saudi Arabia and endorsed by G20 countries that aims to reduce, reuse, recycle and remove carbon emissions, as part of ongoing efforts to mitigate climate change and create climate-friendly energy systems that support sustainable development.
Investors
According to Spark, 15 major energy companies have already signed agreements to invest in the energy park, and another 15 companies are currently in the pipeline. It is forecasted that foreign direct investment in Spark will exceed $2 billion in the next two years, once these investors finalise the construction of their facilities.
Spark has also signed a MoU with the leading global logistics specialist Hutchinson Ports to create a joint venture company to manage and operate the dry port and logistics zone.
In July last year, a key investor Schlumberger – which is a world's leading oilfield services provider for cutting-edge solutions for reservoir characterisation, drilling, production and processing – started operating its manufacturing facility at King Salman Energy Park. Schlumberger commenced work in April 2019 on its $46-million facility which will produce drilling solutions for the regional energy industry.
Also in July, Halliburton announced the successful completion of the concept design for its facility, while Yokogawa IA, another anchor investor in Spark and a leading provider of the industrial automation and control solutions, reached the final stages of construction of its high-tech equipment manufacturing centre in the energy hub.
The Oilfields Supply Company Saudi (OSC) is also currently building an oil and gas industry user supply base to accelerate the growth of small and medium enterprises (SMEs) by providing ready-to-use factories with the latest specifications, along with a range of integrated services and logistical solutions. OSC Saudi has completed more than 10 per cent of its construction and building work, becoming one of the largest investments in Spark, with a forecasted investment of $400 million, spanning over 1 million sq m.
In September, Photocell for Energy, a pioneer in photovoltaic systems, successfully initiated the concept design of a ground-breaking solar panel manufacturing plant at King Salman Energy Park.
Among other majors, National Petroleum Services Company (Napesco), a leading provider of upstream, downstream, and energy services to the Middle East, has signed up to invest $100 million in a new facility to serve the oil and gas upstream sector in Saudi Arabia. The facility will manufacture downhole tools, gyroscope and several oilfield equipment adding to the energy value chain integration vision of the kingdom.
Target United Energy (TUE), an innovative solution provider in the energy industry in the Middle East (Mena) region, is investing in a new facility dedicated to downhole tools, manufacture of whipstock and serve as a platform for TUE in the region.
Other investors, including Baker Hughes, Halliburton, Al-Rushaid Group and Sawafi-Borets are in various stages of development, ranging from facilities design to appointing building contractors.
To ensure the highest quality facilities management, Spark has appointed Engie Cofely to provide administrative services and maintenance to tenants. Engie Cofely will also be providing a facilities management training programme specifically designed for Spark's employees.
Spark has also initiated talks with Saudi Railway to discuss the future connectivity of the industrial park through a railway system.