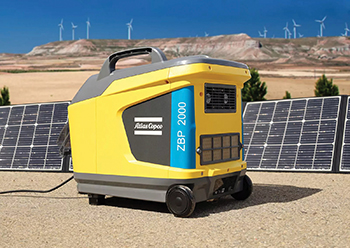 ZBP 2000 ... a portable solution as it comes with two foldable solar panels.
Atlas Copco Power and Flow has launched five new models of its industry-leading lithium-ion energy storage systems (ESS). The new units take modular energy storage to a new level, expanding the spectrum of suitable applications, and providing customers with increased options for power, says the European solutions provider.
The state-of-the-art systems, which have been designed with sustainability in mind, are suited to noise-sensitive environments, such as events, metropolitan construction sites, telecom, manufacturing, mining, oil and gas and rental applications, and enable operators to dramatically reduce their fuel consumption and carbon dioxide (CO2) emissions, according to Bárbara Gregorio, Marketing Manager Power & Energy at Atlas Copco's Power and Flow division.
The additions to Atlas Copco's portfolio include a larger ZBC 300-300 unit and a smaller line of battery-based storage systems, the ZPB 45-60, ZBP 45-75, ZBP 15-60 models, and the ZBP 2000 with two flexible solar panels. With a complete offer of ESS, users will now benefit from increased flexibility and versatility in their operations, with both standalone and hybrid solutions across their sites, she says.
"Our customers are increasingly seeking clean energy solutions to be more sustainable and efficient in their operations. Atlas Copco has been at the forefront of power generation for many decades. The move towards battery storage solutions is a natural evolution for us and we have continued to develop the ESS portfolio using the best battery technology for our targeted applications, making the benefits of clean power available to more applications and for new opportunities in our sector," Gregorio remarks.
These cutting-edge energy storage systems are ideal for applications with a high energy demand and variable load profiles, as they successfully cover both low loads and peaks, she adds.
"For example, they can properly size cranes and other electric motors, and successfully manage peaks in energy demand for noise-sensitive events and for electric vehicles (EV) recharging stations. Furthermore, operators can synchronise several models, which can become the heart of any microgrid, storing and delivering energy coming from several energy sources, including renewables," she explains.
The small ZBP units – the ZPB 45-60, ZBP 45-75 and ZBP 15-60 – have a new design, are modular, mobile, and up to 70 per cent lighter in weight than other battery systems. Hence, they can easily be moved around site to provide clean and quiet energy where required. They are ideal for applications such as events and telecom, and can work alone in island mode, or can be coupled with a diesel generator to provide a hybrid solution with significant energy savings, according to Atlas Copco. Featuring advanced high-density lithium-ion batteries, these energy storage systems provide excellent performance with over 12 hours of power from a single charge, and they can be fully charged in less than one hour (depending on the model), it adds.
ZBP 2000 is a fully sustainable portable solution as it comes with two foldable solar panels which could be used to recharge the unit or to maintain a proper battery level during less efficient production days. It is suitable for small events and small construction sites, providing silent operation and zero emissions while working with solar energy. Up to five units can be joined in parallel to provide users with higher power levels of up to 10kW. Compact and lightweight, with a footprint of 1 cu m, this unit is robust enough to withstand conditions typically found on construction sites.
The ZBC 300-300 joins the ZBC 250-500 and ZBC 500-250 models to complete the medium range of ESS and is a 10-ft container designed to meet the requirements for off- and on-grid applications, and is ideal in combination with renewable stations, providing up to 4,5MWh of storage capacity. It is a scalable solution, as up to 16 units can be connected in parallel. Moreover, when operating in hybrid mode with a diesel generator, users can reduce daily fuel consumption by up to 90 per cent depending on the application.
During standalone operation, these systems do not consume fuel and generate CO2 emissions, operating at less than 80 dB(A), while allowing users to increase the productivity of their core business by up to 50 per cent.