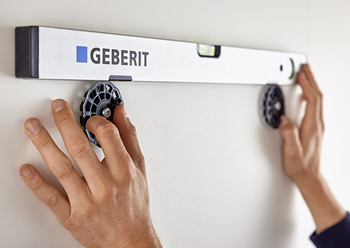 Alignment is made easy by using a spirit level and turning the fixings.
Swiss sanitary solutions provider Geberit says its innovative FlexInstall fastening solution ensures effortless and secure mounting of the new illuminated mirrors of the Geberit Option series
Where the drill holes are not exactly at the same height, aligning the mirror becomes difficult. Using Geberit FlexInstall, the mirrors can also be aligned in height within a margin of 5 mm, says the company.
"The design requirements in the bathroom are as varied as they are individual. Once the right mirror has been selected and installed, it should also hang on the wall as perfectly as possible," says Louise Pitt, Head of Marketing & Communication (Gulf Office) at Geberit International Sales. "To ensure that this succeeds, plumbers can easily readjust the bracket already installed on the wall with FlexInstall. Using a spirit level and turning the fixings makes alignment almost effortless."
No additional tools are needed for installation, she adds.
The new Option mirrors also have an additional wall mount at the bottom of the mirror. Installers do not have to measure the drill holes for this separately; thanks to adhesive strips, the safety clips adhere directly to the wall during alignment and can be screwed in place quickly and easily, Pitt explains. This guarantees a secure hold of the mirror and, at the same time, a flush connection to the wall over the entire mirror surface.
The globally-operating Geberit Group is a European leader in the field of sanitary products. Its production network encompasses 26 facilities, of which four are located overseas. Headquartered in Rapperswil-Jona, Switzerland, the group has around 12,000 employees in approximately 50 countries and generated net sales of CHF3.4 billion ($3.73 billion) in 2022.