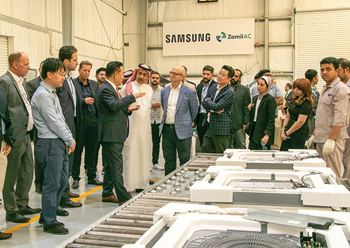 The opening of the plant in Dammam First Industrial City was attended by top executives of Samsung and Zamil Air Conditioners.
Saudi industrial group Zamil Air Conditioners has joined hands with Samsung Electronics to launch its first specialised factory in the kingdom for the production of indoor and outdoor air-conditioners (ACs) using advanced VRF (variable refrigerant flow) technology in Dammam.
This is Samsung's first step towards manufacturing HVAC systems in the kingdom through an alliance with Zamil Air Conditioners.
This partnership aims to boost the cooperation between the two companies in several areas.
"The new alliance aims to explore business opportunities in the kingdom by leveraging Samsung VRF's innovative technology in air-conditioning systems in addition to Zamil's leading expertise in manufacturing, installing, maintaining, and operating various HVAC systems and equipment, to provide these services to customers in various markets and add energy-efficient cooling solutions in the Kingdom of Saudi Arabia in line with local energy-saving initiatives," said a company spokesman.
This venture supports industry localisation and knowledge transfer of advanced technologies in the field of air-conditioning, he added.
The opening ceremony was held at the Dammam First Industrial City which was attended by senior officials of Samsung including its CEO Young June Choi, as well as top executives from Zamil Air Conditioners including its President Ahmed Al Zaatari, and Vice President Turki Al Ghamdi.
Earlier this year, Mohammed Al Sahib, CEO of Zamil Industrial, and Samsung Managing Director Hyung Bin Joo had signed a co-operation agreement in a bid to enhance and expand the cooperation between the two companies in various fields. This includes the local production of VRF air-conditioners by Zamil Air Conditioners in cooperation with Samsung, it stated.
Indoor and outdoor air-conditioning systems that operate with advanced VRF technology offer energy efficiency, zoning capability, flexibility, quiet operation, improved indoor air quality, and enhanced control and monitoring, said the company.
These benefits make VRF systems a popular choice for both residential and commercial applications, it added.