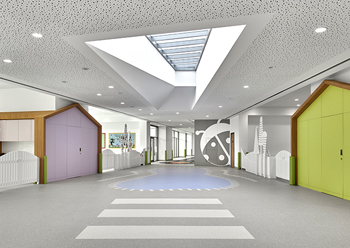 Ladybird Nursery ... green accolade.
GAJ (Godwin Austen Johnson) said one of its projects – Ladybird Nursery – located in Al Barsha, Dubai has become the second early learning centre in the region to be awarded the Leadership in Energy and Environment Design (LEED) Gold certification by the United States Green Building Council (USGBC).
The first, Ladybird Early Learning Centre – also designed by the British architectural and design practice – bagged the LEED certification in 2016.
According to GAJ, both The Ladybird Early Learning Centre and Ladybird Nursery have achieved the highest scores for a pre-school outside of the US, with scores of 72 points and 68 points respectively, and are the only LEED certified nursery schools in the UAE.
"Creating sustainable, healthy buildings is more about being clever with the design, understanding and working with the local vernacular architecture air infiltration and utilising natural lighting where possible. It doesn't need to be overly complicated," said Jason Burnside, the Managing Director of GAJ.
Completed in August 2022, the Ladybird Nursery is a single-storey building with indoor and outdoor play areas.
Each of the three age groups defined within the Ladybird Nursery has their own distinct area and all the spaces are accessed through the main reception for security and supervision.
"We employed a number of both active and passive measures to achieve LEED Gold status including the installation of high-performance variable refrigerant flow (VRF) units which are highly energy efficient providing zoned comfort with precise temperature control. We also specified LED light fittings connected to light and PIR sensors," noted Burnside.