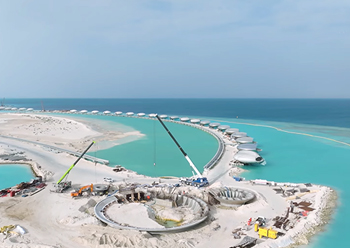 All 38 stainless steel overwater villas have been installed on Sheybarah Island.
Red Sea Global (RSG) has announced exceptional progress with regard to the first phase of its mega Red Sea development, which has involved creating exquisite resorts and sustainable infrastructure in a remote location.
The multi-project developer behind the world's most ambitious regenerative tourism destinations, Amaala and The Red Sea, last month released a comprehensive update on construction progress, marking six years since the launch of Phase One of The Red Sea development.
The Red Sea's first three hotels and Phase One of the international airport are on track to open later this year, while remarkable progress has been achieved across the destination, including at a further 13 hotels and on the supporting infrastructure.
"We stand at the brink of an extraordinary moment as we prepare to unveil The Red Sea destination to the world. In six years, we have made exceptional progress, creating exquisite resorts and best-in-class, sustainable infrastructure in a remote location, demonstrating innovation in line with our regenerative approach and commitment to responsible development," remarked John Pagano, Group CEO at Red Sea Global.
"While the anticipation builds for the opening of our first hotels and the initial phase of our solar-powered airport, we are busy working on the rest of Phase One," he noted.
According to Pagano, work is in full swing on Desert Rock, a unique mountain resort being built into the rockface, with more than 50 per cent project completed.
"RSG has fully excavated and formed the 10 rooms integrated into the mountainside, as well as all 195 m of tunnelling. Major structural and infrastructure works are well advanced, including the construction of the wadi villas, guest hubs, back of house, and other structures," he explained.
Work is ongoing on all 11 resorts and infrastructure across Shura Island. Over 100 construction contracts are in place, with a similar number out in the market for tender, stated Pagano.
He said RSG continued to maximise use of off-site manufacturing with precast structures progressing rapidly, bathroom pod deliveries under way, and the prefabricated timber structure on the golf clubhouse nearing completion.
On Sheybarah Island, RSG said it has now installed all 38 stainless steel overwater villas. While the first overwater villa took nine hours to install, the developer perfected this process so that it now requires less than two hours, it stated.
The first beach villas have arrived at the island, one of which has successfully been installed. The developer is also making substantial progress on other front- and back-of-house structures and infrastructure, including foundation work on the spa and two specialised restaurants.
The Start-Up Distribution Center and Start-Up Transportation Hub are being completed to provide operational logistic facilities ahead of the opening of the first hotels. Already, more than 150 trucks of materials and 2,000 people are transported to the various offshore projects each day.
According to Pagano, the work on Red Sea International Airport is progressing as planned and is on track to start receiving its first domestic flights later this year.
RSG has completed the installation of more than 760,000 photovoltaic panels, needed to power Phase One. One of its five solar farms is located near Six Senses Southern Dunes, The Red Sea, which will be the first hotel to open at The Red Sea. The utilities at the resort are already being powered by the solar farm, he stated.