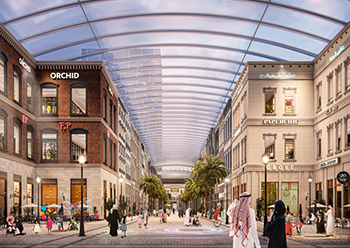 The Avenues Khobar ... targeted for completion in 2025.
Leading Kuwaiti developer Mabanee has awarded a construction contract worth SR3.66 billion ($985 million) to a joint venture of Saudi group AlKifah Contracting Company and Kuwait-based Al Ahmadiah Contracting for Phase One of The Avenues Khobar, its premium mixed-use project in Saudi Arabia's Eastern Province.
Spanning a 197,673-sq-m area, The Avenues Khobar encompasses a commercial complex, entertainment spaces, and towers including hotels, residential apartments, offices, medical facilities as well as multi-purpose halls for hosting a range of events.
As per the contract, the joint venture will be completing the work on a shopping mall and a mixed-use tower within a three-year period, stated Mabanee in its filing to Boursa Kuwait.
The Avenues Khobar, which has a gross leasable area of more than 168,000 sq m, will feature a modern and unique design that reflects the nature of the Eastern Province. According to the developer, it will be developed to ensure sustainability in alignment with the kingdom's vision.
According to Mabanee, The Avenues – Khobar is scheduled to open by 2025.
Meanwhile, Mabanee's subsidiary Shomoul Holding said its other project in Saudi Arabia - The Avenues Riyadh - has achieved a major safety milestone by clocking 12 million safe hours at site.
The site is located in the north-western region of Riyadh and is bound by King Salman Road toward the North and King Fahad Road toward the East.
The Avenues Riyadh will include one of the world's largest malls, as well as five multi-purpose towers.
The luxury shopping mall will be home to more than 1,300 outlets and 15,000-plus-capacity car park. The project will include construction of substations, landscaping and external works.
Phase One of The Avenues Riyadh project is being handled by Nesma and Partners Contracting.
Last year, it had inked a deal with Saudi British Bank to secure SR2.6 billion in funding for the construction of The Avenues Riyadh shopping mall project.
The current phase comprises a shopping centre with two basement levels for vehicles. Above the shopping centre, there will be five towers – an office building, five-star hotel and serviced apartments tower, branded residence/boutique hotel tower, three-star and four-star plus clinics tower, and convention hotel tower.