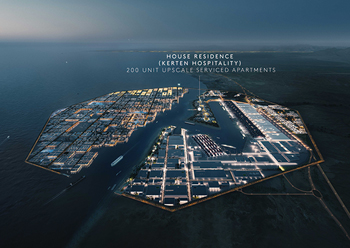 Oxagon's first residential community ... to open in 2025.
Kerten Hospitality, an Ireland-based mixed-use, ESG and lifestyle operator, has reached an agreement with Neom, the developer of a mega futuristic city in north eastern Saudi Arabia, to launch its House Residence brand within the Oxagon development in the kingdom.
As per the deal, it will open an upscale 200-unit serviced apartments, at the heart of Oxagon's first residential community, which is set to open its doors in 2025.
Upon completion, Neom will be fully powered by clean energy, utilising renewable resources such as solar, wind, and green hydrogen-based energy. In line with these plans, Saudi Electricity Company (SEC) last month signed two important deals to supply Neom with its power requirements.
The first contract has awarded to Al Gihaz Contracting Company for the setting up of a substation within Neom. The contract worth SR744 million ($198 million) was for the Neom Mountain Bulk Supply Point (BSP), which includes construction of new indoor 380/132kV gas insulated substation (GIS).
The second contract awarded by SEC, worth $145 million, went to Hyundai Engineering & Construction (Hyundai E&C) to build a 525kV HVDC transmission line covering a total distance of 605 km – from Yanbu, a power production hub on the western coast of Saudi Arabia, to Neom.
According to Hyundai E&C, the entire project work is targeted to be completed in July 2027.