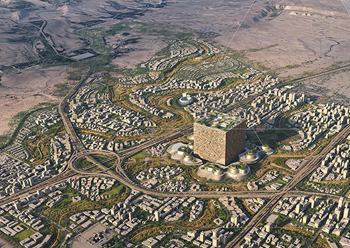 New Murabba ... aimed to be the world's largest modern downtown.
Saudi-based New Murabba Development Company (NMDC) has announced that it has signed an agreement with Bechtel, a leading engineering and construction company, to provide project management services for its mega development, New Murabba, in the capital Riyadh.
As per the deal, Bechtel will provide PMC services for the masterplan and site-wide infrastructure of the project.
The agreement was signed by Sabah Barakat, Acting CEO of New Murabba Development Company, and Jacob Mumm, Senior Vice President and Regional President, Bechtel.
New Murabba is aimed at transforming the landscape and future of Riyadh and creating the world's largest modern downtown, with The Mukaab, the world's largest immersive experience complex, at its centre, according to NMDC.
An exceptional iconic landmark, The Mukaab features the latest innovative technologies. Its design includes first-of-its-kind facilities and will be one of the largest built structures in the world.
NMDC is a wholly-owned subsidiary of the Public Investment Fund (PIF), and its Board of Directors is chaired by His Royal Highness Crown Prince Mohammed bin Salman.
New Murabba will be built around the concept of sustainability, featuring green areas and walking and cycling paths that will enhance the quality of life by promoting healthy, active lifestyles and community activities.
It will offer more than 25 million sq m of floor area, featuring over 104,000 residential units, 9,000 hotel rooms, and more than 980,000 sq m of retail space, as well as 1.4 million sq m of office space, 620,000 sq m of leisure assets, and 1.8 million sq m of space dedicated to community facilities.
It will also feature an iconic museum, a technology and design university, a multipurpose immersive theatre, and more than 80 entertainment and culture venues.
According to NMDC, the New Murabba is expected to add SR180 billion ($47.9 billion) to non-oil GDP and create 334,000 direct and indirect jobs by 2030. The project is due for completion in 2030.