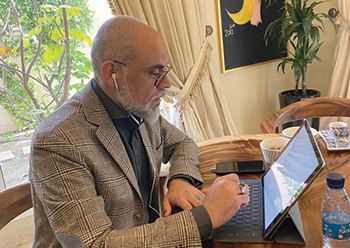 Khalaf ... ensuring business continuity.
As the world faces an unprecedented crisis, companies across the globe are taking measures to revamp their business models, strategies and processes in an effort to maintain an efficient workflow for their customers and stakeholders.
Bahrain-based Reynaers Middle East (RME), the regional office of European aluminium systems provider Reynaers, has also taken several steps to ensure that the impact of the Covid-19 outbreak on its business operations is minimised.
"We have taken all necessary actions in line with the government regulations under the wise leadership of His Royal Highness Prince Salman bin Hamad Al Khalifa, the Crown Prince, Deputy Supreme Commander and First Deputy Prime Minister. These include a 'work-from-home' policy for 60 to 70 per cent of our employees with only key personnel working from offices on a rotational basis," Ali Khalaf, Managing Director of Reynaers Middle East, told Gulf Construction.
Strict social distancing, disinfection and sanitisation procedures are being followed, and protective gear is provided to staff at the Middle East headquarters, warehouse and factory outlet. Visitors and guests are limited currently at most Reynaers offices and showrooms, explained Khalaf.
Despite the current limitation to interaction with customers and site officials at construction sites, RME employees have been successfully serving clients remotely mainly through online meetings and conference calls. The RME offices have several of its operational platforms – including its sales and customer management systems and financial and order processing systems – online and well connected with its European headquarters which has helped in business continuity, said Khalaf.
"As several markets across the Middle East are in lockdown, the major challenge is of limited engagement with our customers which is overcome through enhanced online interactions. This is also planned through a series of upcoming webinars specifically addressing architects and consultants in the construction industry," he added.
Additionally, weekly meetings are held with the team to ensure any major issues are discussed and addressed on a regular basis to facilitate smooth business operations.
"Although a slowdown in the order cycle is expected, we hope to come out of this challenge stronger and with several lessons to prepare ourselves for any future contingencies of this sort," concluded Khalaf.
Reynaers Aluminium specialises in manufacturing and marketing innovative and sustainable aluminium solutions for windows, doors, curtain-walls, sliding systems, sun-screening and conservatories. It is part of the Reynaers Group, which enfolds its several diverse companies in three business units, namely aluminium architectural solutions, steel architectural solutions and building products. Founded in 1965, the Reynaers Group is active in more than 70 countries worldwide with 40 subsidiaries and 2,200 employees.
Reynaers Middle East, headquartered in Bahrain since 2004, caters to the entire GCC region in addition to Jordan, Lebanon, Egypt and Iraq. It also has branch offices in the UAE and Egypt.