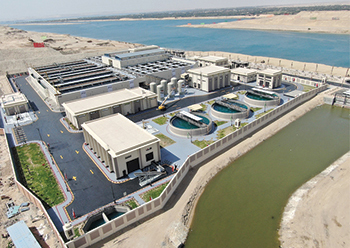 Al Mahsamma agricultural drainage treatment, recycling and reuse plant in Ismailia Governorate.
Egypt has announced the completion of the world's biggest agricultural drainage treatment project – Al Mahsamma agricultural drainage treatment, recycling and reuse plant – in Ismailia governorate at an investment of $100 million.
The one-million-cu-m-day-capacity plant has been developed by a joint venture of Metito, the multinational global provider of intelligent water management and alternative energy solutions, and Hassan Allam Construction, Egypt's leading engineering, construction and infrastructure company, under the supervision of the Armed Forces Engineering Authority.
The giant plant, which has been built over a 42,000-sq-m area, was officially inaugurated by President AbdelFattah El Sisi in the presence of senior officials.
Al Mahsamma is part of Egypt's progressive and multipronged approach to ensure the country's water security through wastewater treatment, desalination, and preservation of natural water resources.
The plant's daily capacity will contribute to the conservation of the natural ecology of the Al Temsah Lake, located west of the Suez Canal, which has been impacted by wastewater disposal.
A state-of-the-art mega national project, Al Mahsamma is a milestone in Egypt's water security agenda and represents a qualitative leap in the field of agricultural wastewater treatment across Africa.
The plant will contribute to the irrigation of 70,000 acres of land in the Sinai, as part of the government's efforts to develop the region by creating sustainable urban communities and job opportunities in the area.
The water is transferred to the plant from Ismailia irrigation drainage canal, located west of Suez Canal, using two individual pump stations.
The water is further pumped through the plant's pump station via eight vertical turbine-type pumps – six working pumps and two on standby – with each pumping at a speed of 7,000 cu m/hr.