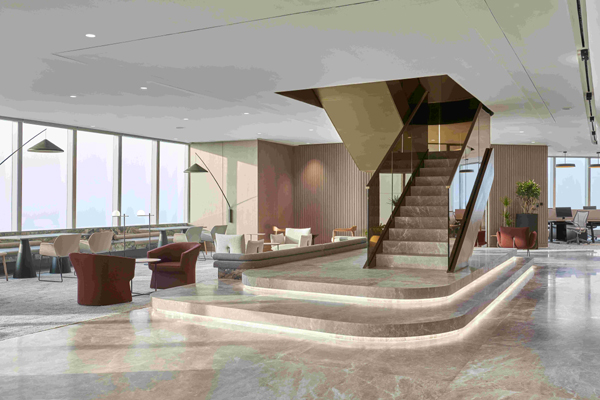 Summertown Interiors, a leading UAE fit-out contractor, has announced the completion of Dubai Multi Commodities Centre's (DMCC) new headquarters in Uptown Tower, JLT.
Uptown Tower is the first supertall tower to be built as part of DMCC's Uptown Dubai district, the latest addition to DMCC's portfolio, offering premium sustainable commercial, residential, and recreational areas.
The 3,200-sq-m office interior project spanning across three floors was completed by Summertown in July in close partnership with Dubai-based interior design studio Roar, as Lead Design Consultants supported by Black & White Engineering, and DMCC Project Management team.
The new headquarters met DMCC's ambitions to create a high-specification, dynamic and collaborative workspace, said the statement from Summertown Interiors.
The highlight of this new workspace is the staircase punctuating through the three floors with vertical circulation which is complimented by natural marble and bespoke joinery, it stated.
Marcos Bish, Managing Director of Summertown Interiors, said: "It has been a pleasure to work on this prestigious government project which was highly tailored to create a fluid workspace and vibrant and collaborative workspace for the DMCC team."
"We recognised the importance of close collaboration with our stakeholder – Roar – who helped us develop the design and work closely with the client to deliver this design and build project in the new Upton Tower. This collective effort allowed us to bring every intricate detail to life, resulting in a workspace that fosters creativity and brings DMCC's vision for a dynamic and interactive workspace to life," stated Bish.
The designer of DMCC's new workspace, Pallavi Dean, Founder, & Creative Director, Roar, said: "We wanted to create a space that went beyond traditional office settings, truly capturing the essence of collaboration and creativity."
"The result is a workspace that seamlessly blends functionality with artistic elements, fostering an environment that inspires innovation and empowers every individual who steps through its doors. We are grateful for the strong relationship we have cultivated with Summertown Interiors as partners in the industry, which played a pivotal role in achieving the project's completion," she added.
Uptown Dubai Phase 1 development will incorporate a hotel and residences in addition to A-grade commercial offices.
Built in alignment with DMCC's commitment to sustainability, the Uptown Dubai Phase 1 development aims to achieve Leadership in Energy and Environmental Design (LEED) Gold status – a building rating system developed by the U.S. Green Building Council (USGBC) and internationally recognised to assess the environmental performance of buildings.
Paul Ashton, Executive Director, Property, DMCC, said: "Uptown Tower embodies our organisation's ethos - a progressive and sustainable space epitomising our dedication to our team members."
"Collaborating with Summertown Interiors and Roar on the new DMCC headquarters was nothing short of exceptional: their unwavering dedication, depth of expertise, and collaborative spirit propelled the project forward, culminating in a breathtaking workspace that truly reflects our values," he added.-TradeArabia News Service