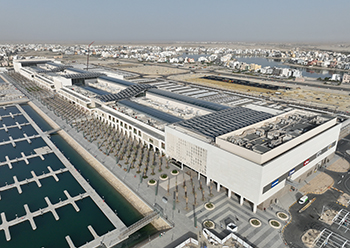 The newly-opened Al Khiran Mall includes 300 retail stores, complemented with a 900-berth marina, and a waterfront park and boardwalk.
Following the recent completion of Al Khiran Mall, Kuwait's first-of-its-kind hybrid outlet mall, leisure, and lifestyle destination, leading real estate developer Tamdeen Group is now putting the finishing touches to The Warehouse Kuwait, the country's first premium 'mainstream' destination.
The Warehouse Kuwait is an innovative venture that aims to introduce an "unparalleled experience" to the country's market. The non-traditional commercial complex is strategically located in the South Subahiya district, serving as one of the prime destinations in the Al Ahmadi Governarate, and is easily accessible from the King Fahd Bin Abdul Aziz Highway and the Fahaheel Expressway.
Blending contemporary architecture with a traditional streetscape feel, the 106,640-sq-m project will include more than 170 retail stores, vehicle showrooms, seven cinema theatres, a variety of restaurants and cafes, and over 2,300 parking spaces.
Precisely crafted with a rustic-industrial aesthetic that plays on modern simplicity, the Warehouse Kuwait has a captivating design that embodies the spacious 75,000-sq-m gross leasable area. Drawing inspiration from industrial warehouses, The Warehouse Kuwait's design comprises interconnected sections that flow seamlessly, each characterised by rich diversity and meticulous attention to shape and content.
Exposed concrete finishes melded with brick walls and metal girders complement the double- and triple-height ceilings featuring fixed skylights radiating natural light and projecting an open feel ambiance.
Set to become the preferred destination for household supplies and in-mall vehicle showrooms, The Warehouse Kuwait will host popular brands within the entertainment, retail, and dining sectors carefully selected to suit the intriguing theme. In terms of household retailers, the shopping centre will be anchored by the furniture conglomerate IKEA which will be opening its doors to its largest store in the country, as well as the Kuwait-based Middle East furniture chain Abyat.
The seven cinema theatres will be operated by Cinescape, a leading cinema chain and distributor in Kuwait. Additionally, the complex houses the "WonderZone" family entertainment centre, providing a range of games for young visitors.
The parking facilities located within four-storey structures are seamlessly connected to the mall through two pedestrian bridges, facilitating easy access for shoppers and ensuring a smooth and hassle-free experience.
Mohammed Jassim Al Marzouq, Chairman of Tamdeen Group, emphasises that this project introduces a fresh and innovative concept to the Kuwaiti market in terms of both content and design.
Through the development of this project, Tamdeen Group leverages its extensive experience gained from a series of successfully completed projects as well as ongoing ventures such as Sheikh Jaber Al-Abdullah Al-Jaber Al-Sabah International Tennis Complex, 360 Mall, Al-Kout and Al-Kout Markets Mall, Al Khiran Outlet Mall, and others.
"Our objective is to create a new destination that brings together a wide array of innovative and unconventional commercial, entertainment and shopping options under one roof," Al Marzouq says.
Al Khiran Mall
The developer has recently opened doors at the Al Khiran Mall, which introduces to the region the first-of-its-kind hybrid outlet format, offering customers a mix of outlet and retail shopping, new-to-market F&B concepts with indoor and outdoor settings along with diverse entertainment and leisure components. It is located within the Al Khiran mixed-use development in the heart of 6.4-million-sq-m Sabah Al Ahmad Sea City.
The KD250-million ($813 million) waterfront project includes 300 retail stores, offering renowned brands, and a vast dining area complemented with a 900-berth marina – Kuwait's largest – and a beautifully landscaped waterfront park and boardwalk along 1.25 km. The project's captivating design, reminiscent of the beaches of the French Riviera, enhances the appeal of the all-inclusive destination, says Tamdeen.
The 750-m-long Al Khiran Mall provides a luxurious setting, blending shopping and leisure with picturesque waterfront views and a refreshing sea breeze.
The shopping complex offers a variety of family entertainment options, has six anchor stores and provides 3,700 outdoor parking slots located at the north-west side of the project.
The mall, which has a gross leasable area of 70,000 sq m, boasts a number of striking design features, right from the glazed skylight roofing system that floods the interior with natural light to the striking perforated metal screens that create a symphony of light and shadow. To ensure adequate natural lighting and maintain cool temperatures inside the two-storey shopping mall, the complex features ETFE (ethylene tetrafluoroethylene) roof structures and mashrabiya panels.
Captivating plazas and a unique internal landscape further elevate the mall's allure.
SSH, one of the leading master planning, infrastructure, building design and construction supervision firms in the Middle East, was responsible for the delivery of construction supervision and project management services for this new leisure and lifestyle destination.
The contractor on the project was Alghanim International General Trading and Contracting Company.
Al Khiran Outlet Mall is set to become the major outlet shopping destination for visitors from Kuwait and neighbouring countries. The downtown-style community is designed to serve more than three million consumers in a carefully master-planned concept based on sustainable integration with the surrounding environment, according to Tamdeen.