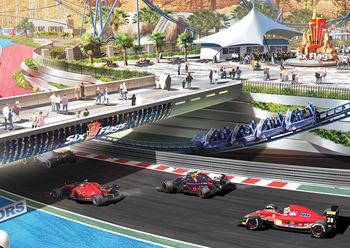 The Six Flags Qiddiya park will feature a range of record-breaking rides and attractions.
Work continues on the development of Six Flags Qiddiya – a theme park that aims to break all records of family fun and entertainment – on the outskirts of the Saudi capital, with the latest announcement having been the award of a major fabrication package to US-based Scruffy Dog Creative Group, a leading international experience design and creative build company.
Spread across six themed lands, the park will feature a range of record-breaking rides and attractions including the gravity-defying Falcon's Flight, the world's longest, tallest and fastest coaster.
Scruffy Dog Creative Group last month announced its success in securing a significant contract for Six Flags, Qiddiya. The scope includes the development design, build, delivery and installation of several thematic features, animatronic elements, and flagship installations for the new theme park.
The contract worth more than $20 million was awarded by Bouygues Bâtiment International (BBI) – a subsidiary of Bouygues Construction – and Saudi Almabani General Contractors (AGC) as an extension of their joint venture in the kingdom.
The joint venture was awarded the SR3.75 billion ($1 billion) contract by Qiddiya Investment Company (QIC) to build Six Flags Qiddiya at the end of 2021, when the ground-breaking ceremony was held to mark the official start of construction on the project.
Bouygues Bâtiment International boasts a distinguished reputation for its construction expertise and global presence, while Saudi Almabani General Contractors is a prominent name in the regional construction field.
Qiddiya aims to provide a wide spectrum of offerings that include sports and wellness; nature and environment; parks and attractions; motion and mobility; as well as arts and culture.
Six Flags Qiddiya will cover an area of 320,000 sq m and will feature 28 rides and attractions of which 10 will be thrill rides, with 18 rides designed for families and young children. It is expected to be Six Flags' first theme park outside North America.
All rides and attractions have been designed exclusively for Qiddiya and embody the rich cultural heritage of the location as well as Saudi Arabia. The theme park will be home to five signature rides that will break world records including: Falcon's Flight; Sirocco Tower, the world's tallest, free-standing shot tower ride; Gyrospin, the world's tallest pendulum ride; Spitfire, the world's tallest inverted top hat coaster; and Iron Rattler, the world's tallest tilt coaster.
The rides and attractions at the theme park will be spread across six immersive lands: The City of Thrills, Discovery Springs, Steam Town, Twilight Gardens, Valley of Fortune and Grand Exposition.
The central hub of the park will be the Citadel which will be covered by a billowing canopy form inspired by traditional Bedouin tents. Home to a wide range of cafes and shops, the venue will transform into an interactive show space throughout the day. From here, visitors will find gateways to each of the themed lands.