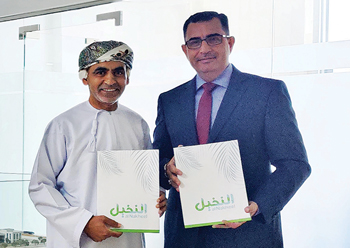 Al Abri and Al Aani after signing the contract.
Oman-based Al Nakheel has signed a deal with the National Company for Construction Works (NCCW) for the construction package including roads and infrastructure of the $650-million Al Nakheel Integrated Tourism Complex (ITC) project.
The project, being developed by Alargan Towell Investment Company in Oman, is coming up on the seafront in the Wilayat of Barka close to the Daymaniyat Islands Nature Reserve.
The signing covers the construction package for the roads enabling works of the project. It will spread over 500,000 sq m with the usufruct right, and stretch along almost 1 km of waterfront overlooking the Sea of Oman.
The Al Nakheel project seeks to be a masterpiece of affordable community living that will elevate urban development in Oman to new heights. A unique water body Crystal Lagoon covering an area of 51,000 sq m will be the centrepiece of the development.
The project will also be home to a lakefront hotel and two seafront hotels, along with villas, apartments, townhouses, and serviced apartments. It will include a shopping mall, a souq, an international school, various restaurants, an aqua park and other entertainment and service facilities.
"The signing reflects our commitment to develop the Al Nakheel project and to present new concepts to buyers, investors and tourists, citizens and residents, to support the government's endeavours towards achieving Oman Vision 2040," remarked Mohammed Moosa Al Abri, the CEO of Al Nakheel, after signing the deal with Wissam Al Aani, Executive Representative of NCCW.
The first construction package for Al Nakheel project started earlier this year which included earthwork for the roads and the levelling of the land. The next phase will include enabling works for the Crystal Lagoon, roads and infrastructure package.
Al Nakheel ITC is iconic for its pristine location and a unique combination of facilities that create a one-of-a-kind mix to cater to the wider Omani and foreign market.