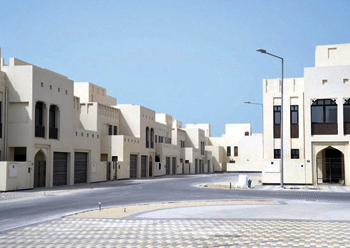 The new residential units will be built in Madinat Salman and Madinat Khalifa.
Bahrain's Ministry of Housing and Urban Planning (MoHUP) has invited three separate tenders from leading developers to provide design and construction services for a total of 771 residential units under the Government Land Development Programme.
Of these, the lion's share of 491 homes will be developed under the Madinat Salman Project – with the first tender issued for a set of 360 residential units and the second for 131 units, each being developed on a 25,000-sq-m area.
The third tender was floated for the construction of a total of 280 housing units under the Madinat Khalifa Project. These residences will come up over a 50,000-sq-m area.
In its tender notification, the ministry said the winning bidders will be responsible for the design, construction and funding of all residential units in addition to hard and soft landscaping services within the project as well as related secondary infrastructure.
Upon completion of the project, the developer will pay MoHUP an agreed land value, while the ministry will provide a buy-back arrangement for units unsold after a 24 months sale period, it stated.
The project company will sell these units commercially to Mazaya and social housing loan-eligible beneficiaries, it added.
Bahrain's Minister of Housing and Urban Planning Amna bint Ahmed Al Rumaihi indicated that last dates for submitting the bids for the development of lands allocated for residential units are March 1 and March 5, 2023.