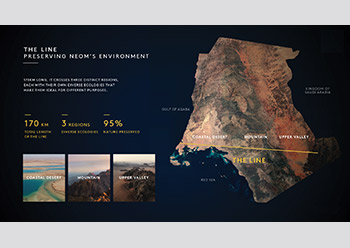 A revolution in urban living, The Line is a 170-km belt of hyper-connected future communities, without cars and roads and built around nature, that aims to address the most pressing challenges facing humanity today such as legacy infrastructure, pollution, traffic, and human congestion, said Neom.
The city will run entirely on renewable energy and prioritise people's health and well-being over transportation, put nature ahead of development and will contribute to preserving 95 per cent of Neom's land.
The Line, which is only 200 m wide, 170 km long and 500 m above sea level, will eventually accommodate nine million residents.
This, in turn, will reduce the infrastructure footprint and create never-before-seen efficiencies in city functions, according to Neom. Residents will also have access to all facilities in The Line within a five-minute walk, in addition to a high-speed rail with an end-to-end transit of 20 minutes.
According to HRH Crown Prince Mohammed bin Salman, the designs for the city's vertically layered communities will challenge the traditional flat, horizontal cities and create a model for nature preservation and enhanced human livability.
"Neom is leading a team of the brightest minds in architecture, engineering and construction to make the idea of building upwards a reality," he said.
The idea of layering city functions vertically while giving people the possibility of moving seamlessly in three dimensions (up, down or across) to access them is a concept referred to as' Zero Gravity Urbanism'. Different from just tall buildings, this concept layers public parks and pedestrian areas, schools, homes and places for work, so that one can move effortlessly to reach all daily needs within five minutes, according to Neom.
The outer mirror facade allows its small footprint to blend with nature.
To create the most convenient city in the world, city functions will be layered for maximum livability and efficiency.
According to Neom, The Line is being built in such a way that its urban footprint will be just two per cent of a conventional city, occupying will total only 34 sq km, thus supporting the developer's goal of preserving 95 per cent of land for nature.
Inside the structure, to ensure the establishment of microclimatic spaces, the environment has been carefully designed to allow for an optimal balance of sunlight, shade and natural ventilation, it stated. Furthermore, the green open spaces throughout the city will further enhance the comfort for those living, working and visiting here.
Neom's diverse terrain includes pristine beaches, red desert expanses and snow-capped mountains – with views of the Gulf of Aqaba. Due to The Line's impressive length, the city passes through each of these unique landscapes, offering a variety of adventures.
The city's design will be completely digitalised, and the construction industrialised to a large degree by significantly advancing construction technologies and manufacturing processes.
To spearhead its ambitions in the renewables and digitisation sphere, Neom has set up two subsidiaries: Enowa, its energy, water and hydrogen company, which was launched in March this year; and the Neom Tech & Digital Company.