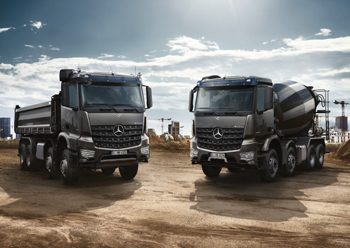 The Mercedes-Benz Actros and Arocs trucks deployed at Neom have been manufactured at NAI's factory in Saudi Arabia.
Juffali Commercial Vehicles is playing a vital role in the construction and development of Neom – one of the world's most ambitious new mega-developments – through the supply of a fleet of the new generation of Mercedes-Benz Actros and Arocs heavy-duty trucks.
Neom is described as a vision of what a new future may look like. The estimated $500-billion development in northwest Saudi Arabia on the Red Sea is being built from the ground up as a living laboratory, and a place where entrepreneurship will chart the course for this new future, says a spokesman for the Saudi-based company.
For the massive development, which will be "a destination and a home for people who dream big and want to be part of building a new model for exceptional livability, creating thriving businesses, and reinventing environmental conservation", Juffali Commercial Vehicles is providing the new generation of Mercedes-Benz trucks, which have been assembled at a factory of its subsidiary.
The Actros and Arocs trucks, which are assembled at the factory of National Automobile Industry (NAI), add a new dimension of efficiency and strength, as they have been developed specifically for the extreme climatic conditions in Saudi Arabia and with specifications that enable them to withstand the most difficult operating requirements, says a senior official of Juffali Commercial Vehicles.
Heiko Schulze, CEO of Juffali Commercial Vehicles, said: "The Mercedes-Benz Trucks brand is synonymous with reliability, comprising top-of-the-range heavy-duty trucks; our customers receive a truck with components that are designed to work together to deliver higher production levels and versatility.
"The Mercedes-Benz Actros and Arocs trucks have proven to be highly efficient and durable, making them a favourite for many customers around the world."
"The scale and ambitions of Neom are second to none and it is incredibly rewarding to see that our Mercedes-Benz Trucks Actros and Arocs are working so hard for this world-class project," he adds.
The Actros impresses with its practical design, robustness and safety. It is equipped with leading Mercedes-Benz vehicle technology and components tested under the toughest conditions, according to a spokesman for Juffali Commercial Vehicles. A three-year or 450,000-km powertrain warranty comes as standard with the truck. The engines of the Actros are designed for low optimised fuel consumption, maximum longevity and optimal performance.
The Actros meets the continually growing demands in long-distance and heavy-duty distribution haulage more effectively and efficiency than ever, says the spokesman.
Meanwhile, the road and all-wheel-drive variants of the Arocs offer particularly tough and robust vehicles to meet any challenge in construction and off-road transportation – from platform vehicle and concrete mixer to heavy-duty tipper. The truck is said to powerfully master every driving situation, equipped with a robust and high-torque engine, Mercedes PowerShift 3 and a new unique suspension and frame design, all as standard.
The Arocs was built with an increased ground clearance with high angles of approach to ensure optimised agility even in challenging road conditions. A durable powertrain delivers precisely the power needed in off-road transportation, construction sites or extreme terrain.
These trucks are eminently suitable for the various applications in the extreme climatic conditions and rough terrain of Neom, where the first phase of the development is expected to be complete by 2025.