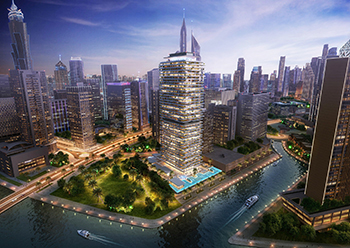 Keturah Business Bay ... to offer the 'Bio Living' concept.
Leading UAE developer MAG has launched Keturah Business Bay, a AED2-billion ($544 million) luxury tower that proposes residential 'Bio Living' within its key development, Keturah, in Dubai.
The announcement comes following the launch of the luxury well-being real estate and hospitality concept, Keturah. Unveiling the project, MAG said this new luxury tower offers transformational living through the design of space. The new tower will be the first in the Middle East to immerse residents in nature through the 'Bio Living' concept that incorporates nature into the built environment to improve the physical, mental and emotional health of its occupants, it stated.
Keturah Business Bay will offer studios, one- and two-bedroom apartments ranging from 600 sq ft to 2,200 sq ft along with key amenities including an outdoor pool, a gym, restaurants, and retail spaces. It is scheduled for completion by Q3 2027.
The new tower's homes boast double-volume interior spaces, which enhance the flow and circulation of naturally cooled air. Open-plan spaces, devoid of corridors or hallways, optimise movement throughout the apartment.
Meanwhile, MAG has awarded Swissboring a contract valued at AED55 million for shoring and piling works at The Ritz-Carlton Residences, Dubai, Creekside, part of the Keturah Resort.
The company will launch a tender for the development's main contractor in Q4 2023.
The Ritz-Carlton Residences, Dubai, Creekside comprises 177 residences across seven buildings and 12 mansions.