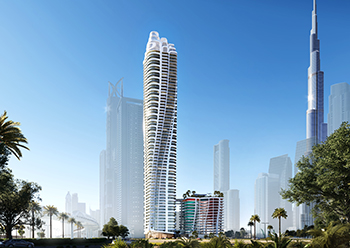 Volta, a 60-floor luxury tower ... to come up on Shaikh Zayed Road.
UAE-based Damac Properties has announced the launch of Volta, a 60-floor new fitness-inspired luxury residential development on Shaikh Zayed Road in Dubai.
Volta will aim to integrate health and wellness into the design and its amenities to promote an active lifestyle for all its residents. The tower will offer a choice of three and four-bedroom super-luxury apartments and one- and two-bedroom luxury apartments along with an aqua gym, ice therapy, acupuncture, and physiotherapy, aqua massages, and beauty treatments.
Volta will feature a host of amenities, including a multi-layered swimming pool deck with a unique seating and lounging experience, a jogging track, an infinity sky pool, a sky yoga studio, boxing facilities, outdoor callisthenics, sculpting machines, TRX, integrated gym walls and emergency rooms for the safety of residents.
General Manager (Projects) Mohammed Tahaineh said: "During the concept and design phase, we asked our-selves – how we can offer superior experiences to our residents that can further enhance their day-to-day life."
"We found that busy lifestyles make time for 'self-care' challenging. The building's design and architecture incorporate elements that promote overall well-being, and health-focused amenities allow for physical and mental wellness," he added.
The tower's exterior is sleek and modern, and the interior is designed as a vibrant, dynamic, and carefully thought-out space that radiates energy and positivity. The lobby and facility areas offer bold, neon pink colours that invigorate and energise the mind.
Inspiring sculptures and art installations further motivate residents and visitors, adding to the over-all aesthetic of movement. The amenities will also include climbing walls.