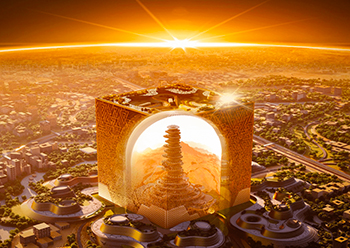 The Mukaab, a 400-m cube-shaped building planned for Riyadh.
Saudi-based New Murabba Development Company (NMDC) has awarded a major contract to Turner Arabia, a leading construction management consultancy, to provide project management services for its mega development, The Mukaab, in Riyadh.
The Mukaab, which will come up at the heart of New Murabba, is an exceptional iconic cube-shaped landmark that features the latest innovative technologies. Its design includes first-of-its-kind facilities and will be one of the largest built structures in the world.
The Mukaab is a truly visionary structure that is unlike anything ever built before, standing at 400m x 400 m x 400 m, said its developer. It will create the world's largest immersive experience building, which will include a number of first-of-its kind technologies to truly transport the building's visitors and residents to a virtual reality world at an unprecedented scale.
According to NMDC, the Mukaab consists of a large retail element and an iconic hotel enclosed inside it and surrounded by an immersive experience screen, four mixed-use corner towers, as well as the world's largest usable roof space, all wrapped in a Najdi architecturally inspired façade.
The Mukaab will sit on a massive basement and podium structure.