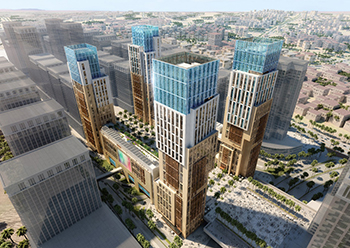 Masar Destination ... a $27-billion project in Makkah.
Saudi-based Umm Al Qura for Development and Construction said it has reached an agreement with Scope Properties for the acquisition of land for the construction of residential towers at Masar Destination in Makkah at a total investment of SAR900 million ($240 million).
Umm Al Qura is the owner and developer of Masar Destination, a new urban development that will boast tens of thousands of hotel and residential units as well as a host of retail and commercial units.
The agreement was signed on the sidelines of the inaugural edition of Cityscape Global exhibition held in Riyadh last month.
Masar is an urban destination with a development and investment vision that adopts the highest environmental and community sustainability standards. Till date, nearly SAR40 billion ($11 billion) has been spent on Masar Destination, said Umm Al Qura.
The project is being developed in co-ordination with investors from the private sector and state-owned investment funds including Public Investment Fund (PIF), Ministry of Finance, Public Pension Agency, General Organization for Social Insurance, and General Authority of Awqaf.