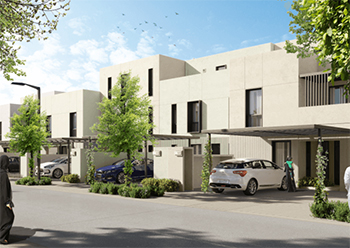 Roshn's community projects are spread throughout the kingdom.
Roshn, a leading Saudi real estate developer and PIF-funded giga-project, has awarded over SR9 billion ($2.4 billion) worth of contracts linked to construction, primary and secondary infrastructure and fittings work in its premium community development projects coming up across the kingdom.
The deals were inked with top Chinese and Saudi companies on the sidelines of the debut edition of Cityscape Global held last month in Riyadh.
The first contract, worth SR7.7 billion, has been awarded to China Harbour Engineering Company for the construction of 6,700 residential units as well as retail and supporting public amenities including mosques and community centres at Roshn's Sedra and Warefa communities in Riyadh. Roshn said this commercial contract was the largest in value to be announced among all Saudi giga-projects till date and the entire work would be completed within a 45-month period.
The second deal, worth SR690 million, was sealed with Saudi group PC Marine Services for canal and bridge construction in Roshn's recently announced Marafy community, which connects to Alarous in Jeddah.
The third contract was awarded to Saudi Abyat for the design and supply of around 12,000 kitchens, construction, and fittings in several upcoming Roshn communities.
The last deal worth SR840 million was sealed with Saudi Pan Kingdom Company covering primary and secondary infrastructure works in Roshn's upcoming and yet-to-be announced communities in the kingdom's western regions.