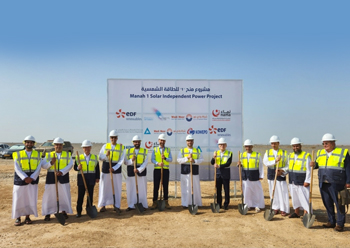 Officials at the ground-breaking ceremony for the Manah 1 solar power plant.
Leading French developer EDF Renewables and its consortium partner, Korea Western Power Company (Kowepo) have broken ground on the 500MW Manah 1 Solar Photovoltaic (PV) Power Plant located in the Al Dakhiliyah Governorate, 120 km south of Muscat city.
The plant, which will come up on a 7.8-sq-km area, is expected to start commercial operation in the first quarter of 2025. The EDF consortium has already inked a sales purchase deal with Nama Power & Water Procurement (PWP).
EDF Renewables and Kowepo have also selected Worley as owner engineer for the project. Worley will work alongside the Wadi Noor Solar Power Company to deliver the PV plant in a timely manner in accordance with the market's highest standards.
The ground-breaking ceremony was held in the presence of senior delegates, HE Dr Masoor Al Hinai, Chairman of Authority for Public Services Regulation (APSR), Sheikh Dr Faisal bin Ali Al Zaidi, Wali of Manah, Eng Ahmed Al Subhi, Chairman of Nama, Ahmed Al Mahrizi, Group CEO of Nama, Yaqoob Al Kiyumi, CEO of PWP, official representatives of the Embassy of France in Oman and Ambassador of the Republic of Korea in Oman Kim Kiejoo.
It was also attended by Olivier Bordes, CEO Middle East of EDF Renewables, Ko Youn Ho, Managing Director Overseas Business of Kowepo.
Bordes said: "This project demonstrates EDF Renewables support for Oman's Vision 2030 objectives and its climate goals. Sustainability, low-carbon innovative solutions and nurtured local knowledge are the cornerstone for EDF Renewables."
"We will continue to work with the Sultanate of Oman's government on driving its clean energy transition, while supporting the sultanate in reaching its renewables capacity target of 30 per cent by 2030," he stated.
"Moreover, once fully operational the project will considerably contribute to power with clean electricity 50,000 Omani homes while offsetting over 780,000 tonnes of CO2 per year," he added.