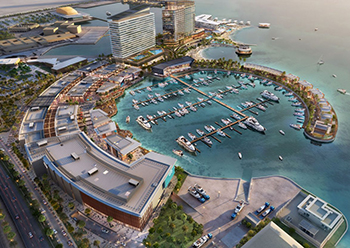 Bahrain Marina project will spread over a 256,000-sq-m area on Manama's eastern coast.
Bahrain Marina Development Company has announced that work has started on its BD200-million ($525 million) mixed-use project located on Manama's eastern coastal strip.
Spread over a 256,000-sq-m area, Bahrain Marina project will offer a unique blend of living, shopping, scenic beaches, and diverse water sports activities. It will boast a total of 274 residential units as well as 192 retail outlets in addition to hotel facilities spread over 68,637 sq m offering 304 rooms.
Nass Contracting, a subsidiary of Nass Corporation, has been signed up as the principal contractor responsible for project implementation along with Mohamed Salahuddin Engineers & Architects (MSCEB) which will oversee the construction of the inaugural phase of the project valued at BD92 million.
The agreement was signed at the headquarters of Bahrain Marina Development Company in the presence of Khalid Mohamed Yusuf Najibi, Chairman of the Board of Directors, and Yusuf Al Thawadi, Managing Director, as well as Nass Contracting officials Chairman Sameer Nass and Nass Corporation CEO Engineer Shawqi Al Hashemi. MSCEB was represented by Chairman Mohamed Salahuddin and CEO Thamer Salahuddin along with several senior officials from all participating parties.
Haj Gulf was recently appointed to the development to provide its expertise in project management and quantity surveying. The Bahrain Marina masterplan was designed by Benoy, a global leader in architecture and master planning.
"The collective goal is to transform this coastal area into an unparalleled tourist, commercial, and residential enclave in Manama, the capital city. This development will offer a unique blend of living, shopping, scenic beaches, and diverse water sports activities," noted Najibi.
"The comprehensive project scope encompasses a marina club building, a commercial complex, restaurants, and a multi-storey tower featuring luxurious sea-view apartments," he added.
The development will have 1,769 underground parking spaces and 235 berths for yachts and boats.
Bahrain Marina development, Najibi stated, was an integral part of the overarching waterfront plan for Manama, the capital, and is poised to make substantial contributions.