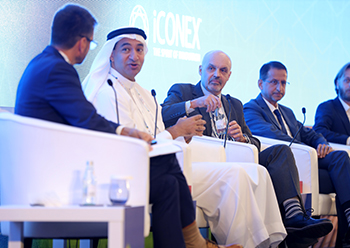 Al Saady (second left) participating in the GWECCC in Bahrain last month.
The water technology sector is on the constant quest to improve energy efficiency, reduce tariffs and incorporate more renewable energy to make desalination more accessible and affordable for countries around the globe.
Among the key players spearheading this drive is Acwa Power, the world's largest private water desalination company, which is boosting efficiency and reducing costs through using less energy by refining reverse osmosis (RO) membrane technology and increasing its use of renewable sources.
Acwa Power, a Saudi-listed company, is also the first mover into green hydrogen, and a leader in energy transition. The company has numerous power and water desalination projects that are operational, under construction or at an advanced stage of development in its domestic market Saudi Arabia as well as elsewhere around the globe (see graph on facing page). It is also involved in the development of the world's largest green hydrogen plant in the much-talked-about futuristic city Neom in Saudi Arabia's northwest.
Not resting on its laurels, Acwa Power has embarked upon a multi-pronged expansion drive that involves boosting its geographical footprint as well as its technological know-how through partnerships to respond quickly to market requirements, Raad Al Saady, Vice Chairman and Managing Director of Acwa Power, told Gulf Construction in an exclusive interview.
Speaking on the sidelines of the Global Water, Energy and Climate Change Congress (GWECCC) which was held last month in Bahrain, Al Saady said: "We want to expand our footprint, not just in terms of what we do, but how we do it. We are looking at how we can positively impact more people and how we can be even more green. We are already doing projects that are significantly more efficient, using less energy and more renewable energy. We are looking at how we can do more of such projects, how we can utilise less land – and can we do this while lowering our tariff? This constant quest for improvements is part of our DNA."
TECHNOLOGICAL GROWTH
Acwa Power has signed a series of partnerships this year alone including agreements with key players in China, Italy and Japan, which aim to boost its capabilities and enhance technologies in its sphere of specialisation.
"In terms of technological growth, we are doing this through partnerships, through green technology," Al Saady said.
"Some discussions are taking place constantly that involve either growing what we do today through enhancing partnerships," he added.
Most of Acwa Power's water desalination plants utilise RO technology, which is considered to be the most energy efficient.
"Improvements in desalination processes will be through new technologies and enhancing existing ones; how to incorporate more renewable energy, how to reduce energy consumption, and also improve the tariff, which will allow more and more people to benefit from desalination technology. Today, not many countries are doing desalination because it's cost prohibitive.
"Reverse osmosis, I think, is a great technology to reduce energy usage by 87 per cent. We are currently also combining it with renewable energy. But still, within reverse osmosis, we believe there is a lot of efficiency that is still untapped. So, of course, we're looking at new technologies," Al Saady pointed out.
Its recent partnership with Toray of Japan, for example, involves enhancing the properties of membranes utilised in its RO plants.
"While currently, membrane technology has reduced significantly the amount of energy that is used, the nature of the MoU involves researching how can we continue to enhance energy efficiency within RO technology, specifically within Toray's technology," Al Saady explained.
Apart from Toray, Acwa Power signed agreements with six Italian companies last month covering a wide spectrum of the company's specialisations. The six Italian entities include the small, medium and large enterprises federation Confindustria, major energy firm Eni, utility and waste management firm A2A, industrial solutions provider Industrie De Nora, specialty additives manufacturer Italmatch Chemicals and classification and engineering solutions provider Rina.
Industrie De Nora will provide its expertise in electrochemistry and sustainable technologies to enhance Acwa Power's portfolio of water desalination projects and will investigate possible cooperation in operations and maintenance in green hydrogen applications.
Italmatch Chemicals and Acwa Power will explore the potential for localisation of the production of water treatment products with long-term supply agreements to its operations, as well as opportunities in R&D and knowledge exchange.
With Eni, Acwa Power will investigate cooperation in green hydrogen, renewables and research and development in innovative, sustainable technologies; with A2A, it will assess the potential for green hydrogen projects in areas of mutual interest; while with Rina, the company will study the potential use of green hydrogen and its derivatives in sea-borne shipping.
A number of these agreements will enable Acwa Power to enhance technology in green hydrogen – such as that which will be utilised at the $8.5-billion Neom Green Hydrogen Project, for which it has achieved financial closure.
Al Saady elaborated: "There are a lot more questions in green hydrogen than there are answers today. We have the world's only financial-closed under-construction utilities-scale project; while it's true that we're doing the world's largest project … that doesn't mean we have all the answers. It's a new sector and we are still looking for partners. We're working closely with our off-takers and our regulators so that we continue to enhance knowledge in that sector.
"In the case of green hydrogen, the whole world is watching how this project will go. So, when we have that added responsibility, we need to make sure that every possibility to improve that project is taken on."
Acwa Power's green hydrogen plant at Neom is now under construction, he says, with completion targeted for 2026. "We're still at a relatively early stage," he added.
GEOGRAPHICAL FOOTPRINT
Acwa Power's porfolio includes 18 desalination plants in four countries, 10 of which are in Saudi Arabia. Last year alone, the company added 2.4 million cu m/day of desalination capacity via four plants in Saudi Arabia, Bahrain, and the UAE – the highest in its history. Today, Acwa Power manages 7.6 million cu m of desalinated water per day.
It has 75 assets today involving investments of $79.4 billion and is looking at further expansion. Its success in its existing markets has created awareness of its capabilities in new territories, which have approached the company for their requirements, according to Al Saady.
"Success begets success. The fact that we're able to do projects in territories or sectors that seemed challenging has opened the eyes in other parts of the world," he added.
In the Mena region, Acwa Power is involved in Bahrain, Egypt, Oman, Saudi Arabia and the UAE … "And we're having conversations to go beyond including in Iraq, Morocco, and many other countries. Our appetite is basically places where we believe we can contribute and offer a unique value proposition," he said.
Among its latest successes in the Gulf region is the Hassyan Seawater Reverse Osmosis (SWRO) plant for which it was chosen as the preferred bidder by Dubai Electricity and Water Authority (Dewa). The 818,280 cu m/day plant is one of the world's largest and will increase Acwa Power's overall water capacity to 7.6 million cu m/day.
With this project, Acwa Power set the world record once again for the lowest water levelised tariff rate of $0.365 per cu m in May this year – this is the first IWP project in history to break the $0.4 per cu m barrier for a SWRO plant of this scale, according to the company.
Acwa Power now anticipates achieving financial closure for the Rabigh 4 Independent Water Plant (IWP) project on Saudi Arabia's Red Sea coast, which it is developing in partnership with Haji Abdullah Alireza & Co (HAACO) and Al Moayyed Contracting Group (AMCG). It has already awarded the engineering, procurement, and construction (EPC) contract to a consortium of Power China, SepcoIII, and Wetico for the 600,000 cu m/day project.
The Rabigh 4 IWP project, valued at SR2.54 billion ($677 million), will mainly serve the Makkah and Madinah regions. Acwa Power currently operates the Rabigh 3 IWP in the same area, believed to be the first desalination plant of its size in the private sector. With the addition of the Rabigh 4 IWP, Acwa Power will double its desalination capacity in the area to 1.2 million cu m/day.
During the first half of this year, Acwa Power launched commercial operation of the Taweelah RO plant, which is now supplying 183 million gallons per day to the Abu Dhabi network.
Another landmark desalination plant that was inaugurated earlier this year was the Jubail 3A IWP (Jazlah Plant), a 600,000 cu m/day independent water project in Al Jubail – Saudi Arabia's first large-scale integrated water desalination-solar photovoltaic (PV) project. The $650-million project will deliver water to over three million people.
Since the launch of commercial operations, the plant has achieved a world efficiency record of less than 2.8 kWh/cu m of final desalinated water, which includes the utilisation of 45.5 MW of solar PV generation to cover 20 per cent of the plant's energy consumption, according to Acwa Power, which developed the plant along with Gulf Investment Corporation (GIC) and AlBawani Water & Power Company (AWP).
AWARENESS
Acwa was at GWECCC to create awareness of the new technologies in water desalination, especially among offtakers, financial institutions and regulators "so they can support these new technologies, because you need those lenders to understand what you're doing", Al Saady.
At the event, it highlighted the importance of integrating water and energy management strategies and emphasised the role of renewable energy sources in creating a sustainable future.
Al Saady stressed that climate change impacts water, evaporation and consumption among other aspect and Acwa is committed to minimising its carbon footprint.
"We owe it not just to our existing stakeholders; our grandkids will one day ask us, 'did you do enough to reduce temperature, to reduce the damage that your generation and previous generations were doing?' We have to be responsible and have to be part of the solution. While it is not a single entity that is responsible for what's been done to the environment – we're all accountable. So, we're trying our best every day to be part of the solution," he concluded.
Link for ACWA power projects overview