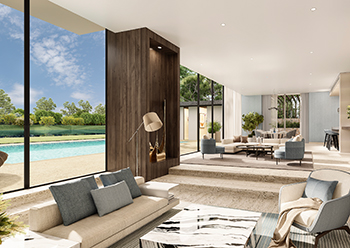 The villas will have high-end material finishes and full-glazed windows to promote seamless indoor-outdoor living.
Oman's first integrated tourism complex Al Mouj Muscat has recently launched Jinan Island, the last island plot within the premier lifestyle destination, and has already initiated ground improvement works on the luxury development.
Al Mouj Muscat, a mixed-use waterfront development which has been designed to offer "world-class lifestyle and leisure experiences within a true sense of community" has already attracted over 8,000 residents from 85 countries since it was first established in the Omani capital in 2006. Its high-quality assets include a marina, a golf course and club, international hotels, and residential and retail projects.
Jinan Island is set within an exclusive waterfront district of Al Mouj Muscat, and is located within walking distance of the pristine Al Mouj beach. Occupying an area of 52,130 sq m, it will comprise a private collection of 43 luxury villas, surrounded by a lake and centred around a lush park.
"Clearance and levelling of the development area has been completed and works are in progress to complete the required deep ground improvement for the site ahead of the main construction works which are planned to commence in the first quarter of 2024," Nasser Al Sheibani, CEO of Al Mouj Muscat, tells Gulf Construction in an exclusive interview.
The final handover of the project is scheduled for the second quarter of 2026, he adds.
Keller Ground Engineering is the ground engineering contractor, while the main contractor is yet to be appointed. The architect of the project is Ideate Design Studio, while the architect of record is EIDC, the landscape architect is Muscat Landscape and the infrastructure consultant is PICL.
"The vision for developing this project is to offer luxury residences targeting the owner-occupier through a lifestyle-based offering," Al Sheibani says.
With an oceanfront environment, Al Hajar Mountains as its backdrop, a location surrounded by the Al Mouj waterway and access to premium facilities like the Al Mouj Golf, beach parks and hotels and resorts such as St Regis Al Mouj Muscat Hotel and Kempinski Hotel, the Jinan Island villas open a multitude of premium lifestyle options. They have easy access to key business destinations, schools, and hospitals as well as popular cultural sites.
"The aspect of living right next to the waterway was only possible with careful planning and engineering solutions for slope stabilisation pre and post construction, maintaining the water quality, and free flow within the waterway," Al Sheibani points out.
MASTERPLAN
Jinan Island will offer an approximate total built-up area of 29,000 sq m. The island comprises the North and South precincts divided by an existing spine road which connects it to the surrounding residential precincts within Al Mouj. Both precincts will have gated vehicular access points that will offer a high level of exclusivity and security to its residents. The development offers three different villa types of five and six bedrooms designed for modern open-plan living, with high-end material finishes and full-glazed windows to promote seamless indoor-outdoor living.
The masterplan has clear strategies to minimise the impact of the hot and humid climate of Muscat, says the developer. Villa orientation maximises exposure to cooling breeze and building design minimises peak solar radiation. All exterior glazing on windows has optimum UV protection which helps against excessive heat and external shading is integrated in the form of balconies, canopies, and other facade structures, it adds.
The villas are designed around a central park which is the focal point and gathering space for the residents of the island.
Landscaping is an important part of the masterplan, not only providing a pleasant environment but encouraging walking and cycling, which promotes a healthy, active lifestyle and wellbeing, according to Al Mouj. The extensive landscaping including lawns, seating areas and water features are for the exclusive use of its residents.
The villas are designed to ensure flexibility and adaptability of internal spaces and are fitted with elevators to cater to elderly owners and those with special needs. In addition, all villas have an additional garden block with flexible adaptable space for multiple functions as per individual requirements.
Every villa is designed with provision for home automation system to monitor and/or control home attributes such as lighting, climate, entertainment systems, and appliances. The owners can also choose to include additional features such as home security comprising access control and alarm systems. Provision for electric car charging points is included in the design of each villa to encourage the use of electric vehicles.
Following the creation of a masterplan for waste management, the homes are provided with two waste storage containers to stream residual, mixed recyclables, organic (food) waste and green waste generated from gardens.
"We will ensure that more than 50 per cent of the materials we use are locally available in the Middle East region. We will also use EIFS (Exterior Insulation Finishing System) for the buildings for better thermal insulation of the façade and hence more energy-efficient cooling inside buildings," Al Sheibani explains.
"As the island is surrounded by existing villas separated by the waterway, construction logistics is currently being planned to make sure that there is minimal disruption to the existing calm serene livable environment during actual construction of this project," he says.
Jinan Island villas are set within a private, gated neighbourhood with a smart access system on residents' cars. With a dedicated guardhouse at the entry of the neighbourhood, comprehensive 24/7 security patrol, security cameras and streetlighting, Jinan Island offers high levels of exclusivity and security to its residents.