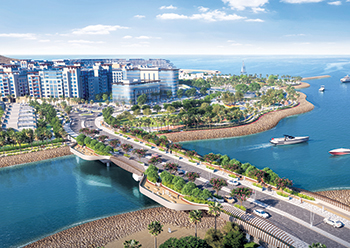 The Sustainable City – Yiti ... aiming to be the world's first net-zero city.
There has been perceptible vibrancy in Oman's construction sector over the past few months, thanks to the increased interest in the sultanate's real estate and tourism sectors, rise in government spending on infrastructure and efforts to diversify the heavily oil-revenue-reliant economy.
With the horizons now well clear of the gloomy clouds of the Covid-19 pandemic, Oman is looking at embarking on ambitious projects such as a newly-unveiled 100,000-people "smart" city - Sultan Haitham City in Muscat, the Sustainable City – Yiti - which aims to be the world's first net-zero city – railway and metro projects, and renewable energy schemes.
Located outside the capital, the mega Sultan Haitham City will come up on a 15-million-sq-m area, featuring 20,000 residential units, a green area covering 2.9 million sq m, 11 health facilities and 39 schools (see Page 14).
Further confirmation of the sultanate's intent to pursue its development plans came last month when its Tender Board approved the construction of Oman Cultural Complex (OCC), a much-awaited project worth RO147.8 million ($383.8 million) comprising the National Theatre, National Library and National Archives, in addition to eight other buildings.
During the meeting last month – its fifth this year, the Tender Board gave the go-ahead for works worth $1.265 billion in various fields. These included a series of road projects – namely the design and construction of the remaining parts of the first phase of Al Batinah Coastal Road (RO78.95 million); the construction of a tunnel at Ateen Road's intersection with 18 November Street in Salalah (RO7.52 million); and the dualisation of several roads, including Al Ansab-Al Jifnain Road (RO53 million), Sultan Taimur Street in Salalah (RO6.2 million) and Al-Farouq Street in Salalah (RO4.98 million).
Another ambitious project on the cards - which will have a far-reaching impact on its industrial and trading sectors - is the UAE-Oman Railway Network, tenders for which were issued in August. The railway network aims to facilitate passenger and freight movement, create job opportunities, and foster sustainable development and stronger ties between the two nations.
Given the surge in activity, the projections for the construction sector of Oman are positive with various market research reports indicating an anticipated growth of 3.5 per cent in 2023 and 4.6 per cent in 2024.
RAILWAY & METRO
Prequalification bids have been invited by the Oman and Etihad Rail Company, the developer and operator of the railway network connecting Oman and the UAE, from specialised contractors for freight facilities, depots and passenger stations linking the two GCC states. Prequalification tenders were earlier issued for civil works on the project.
The 303-km Oman-UAE railway network will extend from Sohar Port to the UAE National Rail Network, linking Oman with Abu Dhabi. Passenger trains will run up to 200 km per hour, reducing the travel time between Sohar and Abu Dhabi to 100 minutes, and between Sohar and Al Ain to 47 minutes, while the freight train speed will reach 120 km per hour.
The overall project is expected to involve an investment of $3 billion and Oman and Etihad Rail Company has received the backing of Mubadala Investment Company, a sovereign investor in Abu Dhabi.
Meanwhile, Oman and Saudi Arabia are studying the prospect of building a railway line linking the cities of Duqm and Riyadh through Ibri border crossing, according to a Muscat Daily report.
Also, on the anvil are plans for a metro for Muscat as part of the sultanate's long-term "strategic urban development plan". Oman's Ministry of Transport, Communications and Information Technology (MTCIT) recently announced that the routes of Muscat Metro, the first-ever mass transit network across the capital city, have been finalised.
REAL ESTATE & TOURISM
In line with Oman's diversification plans, the Ministry of Heritage and Tourism has recently granted 19 licences for integrated tourism complexes (ITCs) across the governorates of Muscat, Dhofar, South Al Sharqiyah, South Al Batinah and Musandam.
While offering a modern style of tourism cities that provide all services and facilities under one roof, these ITCs will provide the opportunity for non-Omanis to own property. On completion, these projects will boast 81 hotel facilities offering 16,576 rooms, 2,552 apartment hotels and villas and 42,617 housing units, in addition to golf courses and a number of harbours, restaurants, cafes and shops.
ITCs that are currently being implemented are estimated to involve an investment of RO4.376 billion while those in the pre-implementation phase are worth RO3.12 billion, according to the ministry.
Among the integrated tourism complexes that are set for completion this year is The Residences at Mandarin Oriental, which has recently been approved as an ITC. The project, being developed by Eagle Hills Muscat – a joint venture between Abu Dhabi developer Eagle Hills and Oman-based Izz International – is Oman's first luxury branded residences and comprises 156 exclusive homes with three-bedroom apartments and four-bedroom penthouses.
Oman's first ITC Al Mouj Muscat, meanwhile, has launched Jinan Island, a private collection of 43 five- and six-bedroom luxury villas, surrounded by a lake and centred around a lush park. Al Mouj Muscat is a joint venture partnership between Oman Tourism Development Company (Omran) - the sultanate's executive arm for tourism development – Tanmia and Majid Al Futtaim Properties (see Page 20).
Work is currently in progress on another ITC - the $650-million Al Nakheel Integrated Tourism Complex (ITC) project, which is being developed by Alargan Towell Investment Company on the seafront in the Wilayat of Barka close to the Daymaniyat Islands Nature Reserve. Early this year, National Company for Construction Works (NCCW) was awarded the roadworks contract for the project.
Spread over 500,000 sq m along almost 1 km of waterfront overlooking the Sea of Oman, Al Nakheel seeks to provide affordable villas, apartments, townhouses, and serviced apartments. A Crystal Lagoon, covering an area of 51,000 sq m, will be the centrepiece of the development, which will also be home to a lakefront hotel and two seafront hotels, a shopping mall, a souq, an international school, restaurants, an aqua park and other entertainment facilities.
However, perhaps the most ambitious projects that is set to unfold along the Sea of Oman, amidst the foothills of the mountains around Muscat is the sultanate's first sustainable city – which aims to be the world's first net zero city.
Sustainable City-Yiti, being jointly developed by Omran and UAE-based Diamond Developers, recently marked the sales launch of its first phase featuring 422 residential units including a wide selection of villas and apartments.
Expected to be completed by 2025, the development will feature a green spine running the length of the community, complete with biodomes and community gardens. The infrastructure of the entire city currently at a 65 per cent completion rate, according to its developers (see Page 16).
Apart from the UAE-based Diamond Developers, other regional investors have shown interest in Oman's tourism potential. Saudi-headquartered Dar Global, a leading luxury real estate developer, in joint venture with Omran is developing the $4-billion Aida project, a one-of-its-kind mixed-use gated community.
The 3.5-million-sq-km property, perched on a hilltop, provides immersive experiences and will include a signature Trump Resort, which will comprise residential villas, a hotel, and a championship golf course designed by a renowned golf professional.
Work on the project is due to begin in Q1 next year and is targeted to be fully completed in 10 years. It will feature two hotels, a plaza featuring cafes and restaurants, a gated promenade with luxury retail and wellness centres, and gyms.
Another key developer is Muriya, a joint venture between Omran and Orascom Development Holding (ODH), which is developing the Hawana Salalah that hosts freehold homes, marinas, hotels, restaurants and is spread along 7 km of sandy white beaches. Muriya has recently launched the premium waterfront residential resort development, Amazi, within the flagship destination. Spanning a 1-million-sq-m area, the project will boast luxurious villas and residences.
In terms of tourism facilities, the sultanate eagerly awaits the opening of its showpiece Oman Botanic Garden - billed as one of the world's largest such facilities. Oman's Ministry of Heritage and Tourism is set to launch the first phase of the botanic garden by the end of this year.
Spread over a 4.3-million-sq-m area in the Al Khoudh region, the botanic garden will have a range of tourist attractions such as cable cars, nurseries, visitor centre, research centre, field study centre, habitat gardens, habitat pavilions, play areas, and family zones for fun and relaxation. It will showcase all the native plant species of Oman in carefully created natural habitats.
Early this year, the sultanate witnessed the opening of Snow Oman, the largest indoor snow park in the Middle East and North Africa (Mena) region and the only indoor snow destination in the sultanate. Located in the Mall of Oman and covering 14,830 sq m, the project was developed by Majid Al Futtaim.
ENERGY
The sultanate has been taking commendable strides in its renewable sector with multi-pronged efforts under way to explore its potential in the spheres of solar, wind as well as green hydrogen – dubbed the energy of the future.
Oman has a long-term plan to produce more than 1 million tons per annum (MTPA) of green hydrogen by 2030, ramping up to 8.5 MTPA by 2050, with an expected cumulative investment value of $140 billion for the projects. The 2050 hydrogen target would represent almost double of Oman's current LNG exports in energy-equivalent terms, according to media reports.
Spearheading efforts to unlock Oman's potential in the green hydrogen sector is Hydrogen Oman (Hydrom), a fully-owned independent subsidiary of Energy Development Oman and regulated by Ministry of Energy and Minerals (MEM), which was set up last year.
Hydron started offering blocks for green hydrogen projects through its arm in November last year.
Among such blocks, Engie, a global leader in low-carbon energy and services, in partnership with Posco, one of the world's largest steel producers, is developing of a 1.2-million-tons-per-year (tpy) green ammonia project on land block Z1-02. Spanning 340 sq km, the concession block is located in Duqm, with downstream elements to be established at the Port of Duqm.
The land block will include a total renewable energy capacity of approximately 5 GW which comprises wind and solar power, in addition to battery energy storage (BESS) and a hydrogen plant that will produce 200 kilotons per annum (ktpa) of green hydrogen. The hydrogen will then be transported by a pipeline to the Special Economic Zone at Duqm where it will be converted into approximately 1.2 million tpy of green ammonia for export.
Other partners in the consortium include Samsung Engineering, Korea East-West Power Co (EWP), Korea Southern Power Co (Kospo), and FutureTech Energy Ventures Company (a subsidiary of PTTEP). Construction is projected to begin in 2027, with the first shipment of green ammonia to Korea planned for the second half of 2030, thereby marking a significant step in sustainable development.
According to The Korea Economic Daily, the deal to build the plant in Duqm is worth $6.7 billion.
Another company developing a green hydrogen and ammonia project at the SEZ in Duqm is Indian renewable energy major Acme Group, which has secured funding to kickstart the first phase of the pioneering project. The facility is expected to produce 100,000 tonnes of green ammonia annually in its starting phase.
In the solar power sector, two landmark projects are Manah 1 and 2, which will jointly produce a total of 1,000 MW over a 15-million-sq-m area within the Governorate of A'Dakhiliyah. Around 2 million solar panels will be installed in these two stations, which will be the largest solar panel project for the sultanate. The entire project is due for commercial operations by mid-2025.
Leading South Korean group Korea Western Power (Kowepo) and its French partner EDF- Renewables started work last month on the development of the 500 MW Manah 1 solar power plant at an investment of $452 million (see Regional News, Page 48), while Manah 2 will be implemented by a consortium of Jinko Power from China and Sembcorp from Singapore.
Oman has only operational utility-scale solar facility, the 500MW Ibri II solar PV plant, which became online in 2021.
In the wind energy sector, Oman Power and Water Procurement Company (OPWP) has plans for up three major independent power projects (IPPs) in Duqm, Jaalan Bani Bu Ali and Harweel.
Of the three projects, Duqm and Jaalan Bani Bu Ali Wind IPP are targeted to start commercial operations by Q2 2026, while the Harweel project will kick off operations in Q4 of the same year.
INDUSTRY
The Public Authority for Special Economic Zones and Free Zones (OPAZ) continues to encourage the setting up of industries within its zones by offering a well-developed infrastructure, facilities and incentives.
Of particular note is Duqm, where a major oil refinery - a 50:50 joint venture between Oman's OQ Group and Kuwait Petroleum International (KPI) – is reported to have shipped out its first diesel cargo last month amid trial runs at the complex. The 230,000 barrel-per-day Duqm refinery is expected to be fully operational in late 2023.
A major petrochemical complex is also on the cards for the SEZ at Duqm, following a project development agreement signed by Saudi Basic Industries Corporation (Sabic), OQ and KPI. As per the deal, the trio will set up a steam cracker and derivative units as well as a natural gas liquid (NGL) extraction facility as part of the project.
Duqm will also see the development of a $3-billion green steel manufacturing facility, which will be developed by Jindal Shadeed Group, a pioneer in the steel industry.
Slated to be the largest of its kind within the concession zone at the Port of Duqm, the factory will boast a 5-million-tonne annual production capacity and will come up over a 2-sq-km area. The plant will supply high quality steel products to automobile, wind energy and consumer durables sector, amongst others.
Jindal Shadeed Group also signed an MoU with the centralised utility provider, Marafiq, to provide the plant with the utilities necessary to operate the project such as water services, seawater for cooling purposes and other Marafiq services.