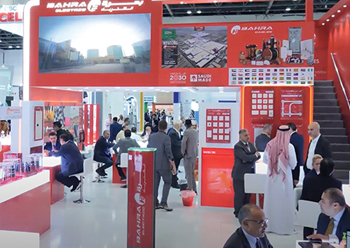 Members of Saudi Made have been making a major impact at regional events.
The manufacturing sector in Saudi Arabia is undergoing a major transformation, driven by a concerted effort to attract foreign investment, encourage the use of domestically produced goods, and initiatives to promote a strong "Made in Saudi" brand in the global market.
Among the initiatives taken to spearhead industrial growth is the establishment of the Made in Saudi (MiS) programme by the National Industrial Development and Logistics Program (NIDLP) and led by Saudi Export Development Authority (Saudi Exports). This programme has been receiving major impetus through Aramco's In-Kingdom Total Value Add (IKTVA) programme, which aims to drive additional domestic value creation to support a rapidly changing economic environment and foster future prosperity.
NIDLP is one of the Vision 2030 realisation programmes that aims to transform the kingdom into a leading industrial power and an international logistics platform.
Speaking at the World Economic Forum in Davos early this year, the Saudi Industry and Mineral Resources Minister Bandar Alkhorayef highlighted that plans under Saudi Arabia's Vision 2030 strategy to make the kingdom a hub for global manufacturing, which will transform its industrial base, are well under way.
"We will see more complexity, more advanced products. We will be able to utilise the natural resources that we have – be it oil and gas or minerals – for more advanced productivity, which will add value to the country."
"With our great location, access to different markets (and natural resources), as well as our most important asset – our people and our talent – we can be a serious player in attracting investments in manufacturing," Alkhorayef said.
"We are betting on technology. We believe that technology will allow us to leapfrog into the future, so advanced manufacturing is key. Artificial intelligence, 3D printing and so on will allow us to create the right jobs for the future, the jobs we want to see for our children and their children," he added.
Alkhorayef said the Saudi government's view is that it should act as an "enabler" for investments in the manufacturing and industrial sectors.
He outlined three key ways in which governments can achieve these results: Ensuring there is a proper regulatory framework for investments; having a solid connectivity infrastructure to create "factories of the future"; and developing human capital by ensuring education and training.
Since the launch of Vision 2030, Saudi Arabia has succeeded in implementing many initiatives and structural reforms to enable economic transformation. This transformation has included several major efforts centered around enhancing local content, national industry, launching and developing promising economic sectors, encouraging private sector participation in economic development.
At this year's In-Kingdom Total Value Add (IKTVA) Forum and Exhibition in January, Aramco signed more than 100 agreements worth about $7.2 billion to boost the kingdom's industrial and manufacturing sectors. The IKTVA initiative refers to the local manufacturing component required by Aramco from its partners. The programme achieved 63 per cent local content in 2022, up from 35 per cent in 2015, when it was originally launched.
Since IKTVA's inception, more than 150 investments have been made in the country, including products manufactured for the first time in Saudi Arabia.
Members of the Made in Saudi programme will, no doubt, eye prospects of being a vendor to Aramco.
The Made in Saudi programme aims to bring significant opportunities for businesses to expand their reach and promote their products domestically and globally.
The programme was launched under the patronage of HRH Prince Mohammed bin Salman bin Abdulaziz, Crown Prince, by the Minister of Industry and Mineral Resources in March 2021.
Within one year of its launch, more than 1,400 Saudi manufacturing companies had become part of the country's growing network of firms that advance Saudi exports as the kingdom taps more resources to develop and expand local industry, according to Faisal Al-Maghlooth, Director General of Made in Saudi Program.
In support of Saudi Vision 2030 and the ecosystem of local manufacturers, the 'Made in Saudi' programme aims to make the kingdom's products the preferred choice, and to position SaudiMade as a trusted brand.
In the building and construction sector, the Made in Saudi programme is looking to attract companies involved in chemicals and polymers, building materials, electronics, electrical devices and equipment, infrastructure and heavy equipment, transport, paper and wood, minerals amd glass and furniture.
The programme is designed to help local industries and content grow. Members are, therefore, expected and encouraged to prioritise use of local talent, materials and suppliers.
The kingdom's economic diversification efforts have seen its non-oil exports and re-exports increase 13.7 per cent in 2022 to SR315.7 billion ($84.07 billion) from SR277.5 billion in 2021. Its non-oil exports, excluding re-exports, also rose by 14.8 per cent in 2022 compared to the previous year, according to the latest report released by General Authority for Statistics (GASTAT).
According to the report, the most important non-oil export goods in 2022 were chemicals and allied products, accounting for 35.8 per cent of the total exports.
This is not surprising, given that investments in the chemical products industry in the kingdom constituted 35 per cent of the volume of investments in the industrial sector.
According to a report issued by the National Center for Industrial and Mining Information affiliated to the Ministry of Industry and Mineral Resources (MIM), the total volume of investment in the chemical products industry in the kingdom amounted to about SR470 billion. The total number of industrial establishments in Saudi Arabia has reached 10,982 with an investment value exceeding SR1.4 trillion, the report said.
The total number of industrial licences issued by MIM from the start of 2023 until the end of June reached 557.
New manufacturing facilities
Saudi Arabia has been spearheading the development of industrial cities and zones for a number of years, having seen the emergence of hubs such as Jubail and Yanbu and more recently Ras Al Khair (known as Minerals Industrial City), King Salman Global Maritime Industries Complex and King Salman Energy Park (Spark) in the Eastern Province.
The development of Oxagon in Saudi Arabia's futuristic city Neom on its northwest coast will position the kingdom among the leaders in the industrial sector in terms of advanced know-how. Oxagon is building an advanced and clean industrial ecosystem, accelerating approaches of Industry 4.0 and the principles of circularity.
Oxagon is set to attract industry leaders to launch manufacture in the kingdom, giving further impetus to the "Made in Saudi" initiative. Among such companies, Gulf Modular International is establishing the "world's largest and most advanced" modular building construction factory in the floating industrial city.
Over the past year, the kingdom has seen a surge in manufacturing facilities in the country, right from intelligent digital products to car factories.
Construction work has recently been launched on the Lucid Motors electric vehicle factory in the King Abdullah Economic City (KAEC), near Jeddah. Lucid announced in March a $30-million lease agreement for a plot of industrial land in KAEC with its developer Emaar Economic City. The plant will be one of three assembly centres for the California-headquartered electric vehicle maker, 61 per cent of which is owned by Saudi Arabia's Public Investment Fund (PIF).
Supporting this venture is the Saudi government order for between 50,000 and 100,000 electric vehicles from Lucid within the next 10 years. The company said that it aims to complete the factory by 2025 or 2026, and eventually build up to 150,000 electric vehicles per year.
Another car manufacturer Ceer, Saudi Arabia's first electric vehicle brand, is going hi-tech by collaborating with Siemens Digital Industries Software to accelerate Ceer's digital transformation.
This will empower Ceer's engineers to design and build truly next-generation vehicles using the Siemens Xcelerator portfolio of industry software for the design, development, validation and manufacturing of Ceer's electric vehicles.
The company, which is a joint venture between PIF and Hon Hai Precision Industry Company (Foxconn), will licence component technology from BMW for use in the vehicle development process.
Among the companies that have newly set up manufacturing facilities in the kingdom is Schneider Electric, a global leader in the digital transformation of energy management and automation, which has opened a new production line in the Saudi capital to manufacture hardware that will contribute to the kingdom's energy efficiency and sustainability.
The state-of-the-art production line will support Saudi Arabia's Vision 2030 goal of positioning the kingdom as a global manufacturing hub, increasing opportunities to export energy management solutions to regional and global markets.
It will produce Schneider Electric's intelligent Altivar Process Modular (APM) Drives, which will be used in industrial processes, machines or buildings to improve energy efficiency, it stated.
Each unit will carry the 'Made in KSA' tag, strengthening Saudi Arabia's position as a global exporter of intelligent digital products, Schneider Electric added. Nearly 80 per cent of the ISO-certified plant's workforce is made of local workers in line with the country's Saudisation goals.
Events
A series of events including trade missions and exhibitions have been lined up to take the 'Made in Saudi' brand across the region and the globe.
Among the construction-related events are China Arab States Expo 2023 in Yinchuan, China, where building completion and finishing products and services and electrical, plumbing and other construction installation activities will be showcased this month (September 21 to 24); Baghdad International Fair 2023 in Baghdad, Iraq, to be held from November 1 to 10 which will promote Saudi products and services for similar applications; and Big 5 Global in Dubai, which will be held from December 4 to 7.
This apart, Saudi Exports is also organising trade missions to promote the Saudi brand, with forthcoming missions headed for Basra, Iraq, this month (September 28) for the building materials, energy, chemicals, polymers, packaging and plastics sectors.
Earlier this year, Saudi Exports initiated engagements at the Saudi-Iraqi trade mission in Jeddah as part of the kingdom's goal to increase the share of non-oil exports to 50 per cent by 2030. It targeted many sectors, including construction, food and medicine, partnering 40 Saudi firms with over 40 Iraqi importing firms.
More recently, Saudi Exports, in partnership with the Ministry of Investment, participated in the Iraq International Real Estate and Investment 2023 exhibition in Baghdad with a pavilion that included more than 18 Saudi companies specialised in the construction, real estate and contracting sectors, and a platinum sponsor for the exhibition.
Last month, a Saudi delegation toured Latin American countries to promote investment and partnership opportunities with governments and private companies. During the tour, government agencies participated in the Brazil-Saudi Investment Forum in Sao Paulo, which resulted in more than 25 memorandums of understanding (MoUs) having been signed between the two countries. These included an agreement between Saudi Arabia's Saline Water Conversion Corporation and Brazilian company WEG to share knowledge and expertise on research, innovations and engineering applications on water desalination.